TLAXCALA, Mexico, October 13, 2023.- Trevor Crabb and Theodore Brunner of the United States beat Brazilians Pedro Solberg and Gustavo 'Guto' Carvalhaes on Friday to make it into the men's semifinals of the 2023 FIVB Beach Volleyball World Championship.
Watch the 2023 FIVB Beach Volleyball World Championships live on VBTV.
Besides USA's Trevor Crabb/Theo Brunner, Poland's Michal Bryl/Bartosz Łosiak, Sweden's David Åhman/Jonatan Hellvig and Czechs Ondrej Perusic/David Schweiner also advanced to the semifinals, which will be held on Saturday in Tlaxcala.
The Americans will meet Czechs Ondrej Perusic and David Schweiner who knocked out defending champions Anders Mol and Cristian Sorum of Norway. The other semifinal feature Bryl/Łosiak and Åhman/Hellvig.
Bryl/Łosiak and Åhman/Hellvig will battle in the first semifinal, set to start at 17:00 local time (23:00 UTC), with Perusic/Schweiner meeting Brunner/Crabb two hours later at the Tlaxcala Bullring.
Brunner and Crabb dominated Brazilians Pedro Solberg and Gustavo 'Guto' Carvalhaes in two sets (21-17, 21-14) in Huamantla to book their spots in the semifinals.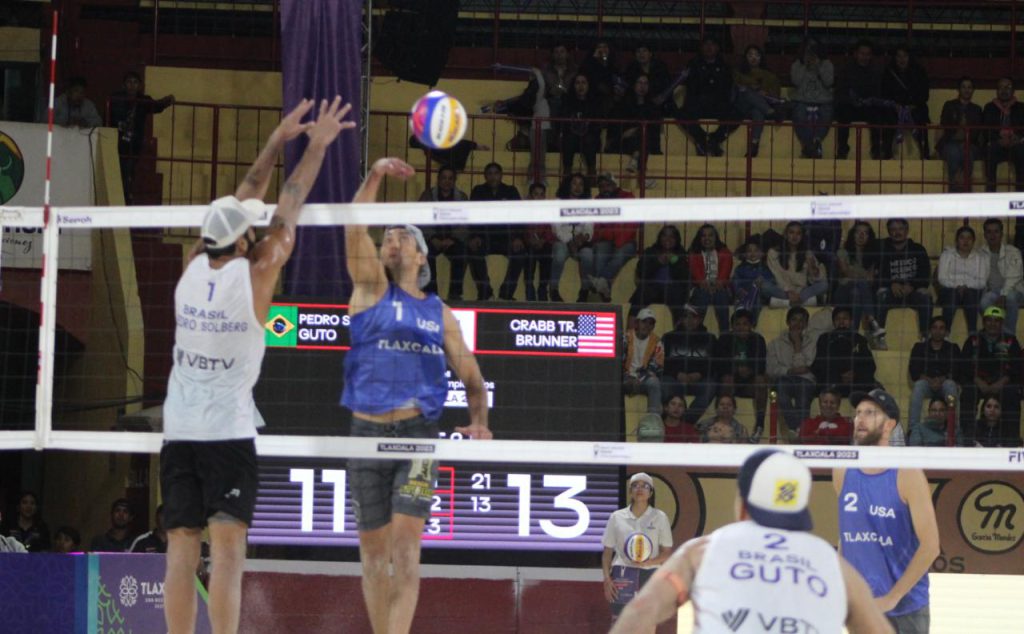 Perusic and Schweiner showed nerves of steel to upset Olympic and world champions Mol and Sørum in the tie-breaker (21-14, 14-21, 15-12) in the quarterfinals.
In the other quarterfinal held in Tlaxcala, Poles Bryl and Łosiak eliminated Americans Miles Partain and Andy Benesh with a straight-set (21-19, 21-16) victory and will both appear in the semifinals of the World Championships for the first time in their careers.
Åhman and Hellvig were pushed to their limits by Dutch Stefan Boermans and Yorick de Groot in Apizaco but managed to secure a three-set (32-30, 22-24, 15-12) win and advance to the semifinals in the first appearance at the World Championship.
Beach Volleyball World Championships – Match Schedule and Results