ROTTERDAM, Netherlands, June 20, 2023.- The U.S. Men's National Team opened the second week of Volleyball Nations League (VNL) preliminary round play with a 3-1 (22-25, 25-19, 25-19, 25-21) victory over Serbia in Rotterdam, Netherlands.
The U.S. Men (4-1), ranked fifth in the world, come right back tomorrow to face China (1-3) at 7:30 a.m. PT.
Four players registered double-digit kills totals with outside hitter T.J. DeFalco leading the way with 14. He added a block and two service aces for a team-high 17 points. Outside hitter Aaron Russell finished with 13 kills, while outside hitter Matt Anderson and middle blocker Jeff Jendryk each added 10.
"They are all beasts, they are all incredible attackers," captain and setter Micah Christenson said about setting the U.S. hitters. "There is no wrong decision on this team because they can all put the ball away with one, two, or three blocks up."
Anderson added four blocks and two aces, and middle blocker David Smith recorded a match-high six blocks as the U.S. carved out a huge advantage in blocking, 11-4.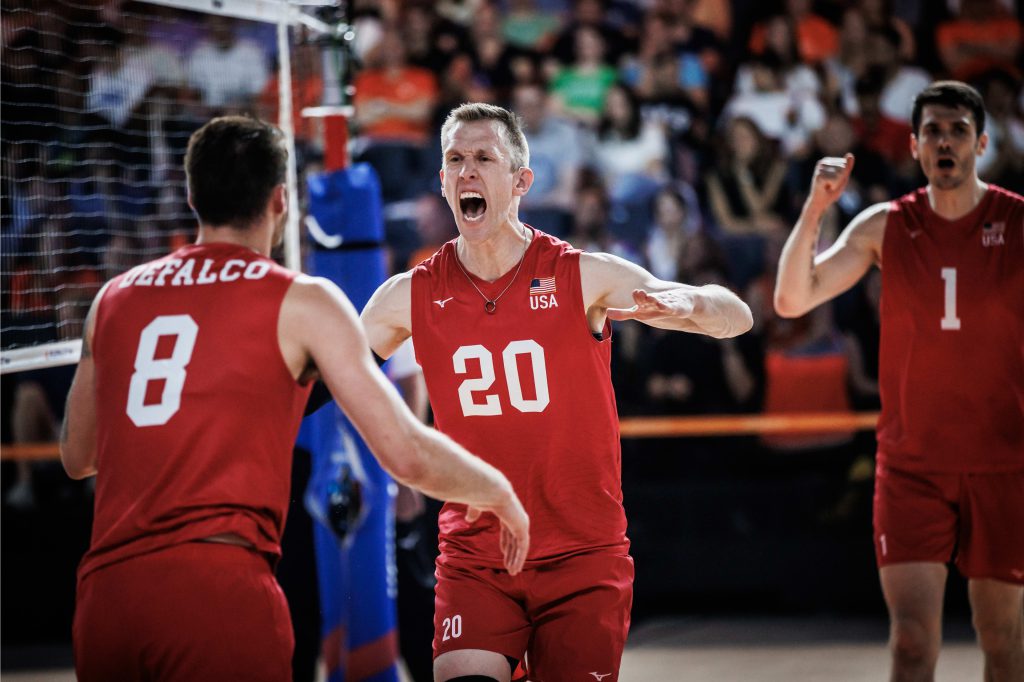 After dropping the first set, the U.S. started serving tougher and jumped out in front in the second set. An ace from DeFalco gave the U.S. a six-point advantage,16-10, and Serbia never got closer than three points the remainder of the set as the U.S. evened the match.
The U.S. Men continued their strong play in the third set and when DeFalco put an overpass straight down, they led 21-14 and went on to take a two set to one lead. The fourth set was more of the same as the U.S. clinched the match despite a gallant effort from Serbia, who fought off three match points.
"I think we executed really well, even in the first set. We've got to give Serbia a lot of credit for that first set. They did a great job in transition," Christenson explained. "It felt like it was coming together and 25 came just a little too fast. If we stayed out on the court a little longer, we were confident we were going to get that and it showed in the second, third, and fourth sets."
The U.S. Men will host the third round of preliminary play in Anaheim, California, on July 4-9.