COSTA DEL SOL, El Salvador, June 20, 2023.- The men's Beach Volleyball Tournament at the San Salvador 2023 Central American and Caribbean Games will start on Wednesday at 10:00 a.m. (local time) with 22 pairs battling to top the podium.
Cuba, winners of the past two editions of the Games, is ready to defend their title, but with the new duo of Noslen Díaz/Jorge Alayo.
"We are prepared to reach the podium and give our country another joy. We've been playing together in several events this year, including in Brazil and we believe we can continue the winning streak at these Games", said Noslen.
Mexican Juan Virgen, who is playing in his fourth CAC Games, winner of two silver medals and one bronze, said that this will be a competitive tournament. "There are good teams, we are all aiming for the podium, I have won several medals in previous tournaments and the goal is to continue, despite the good teams in the competition".
Armando Guatemala, a player of the host country who will defend El Salvador's honor said "we have trained hard because we want to have a good performance. We are aware it will be challenging, we have difficult matches, but we want to put our country's name in high, even more while playing at home with the support of our people".
The competition schedule divided teams in six pools, four of them with 4 tandems and two with three. The first and second places will advance to the eight finals, while the last positions will play a consolation round.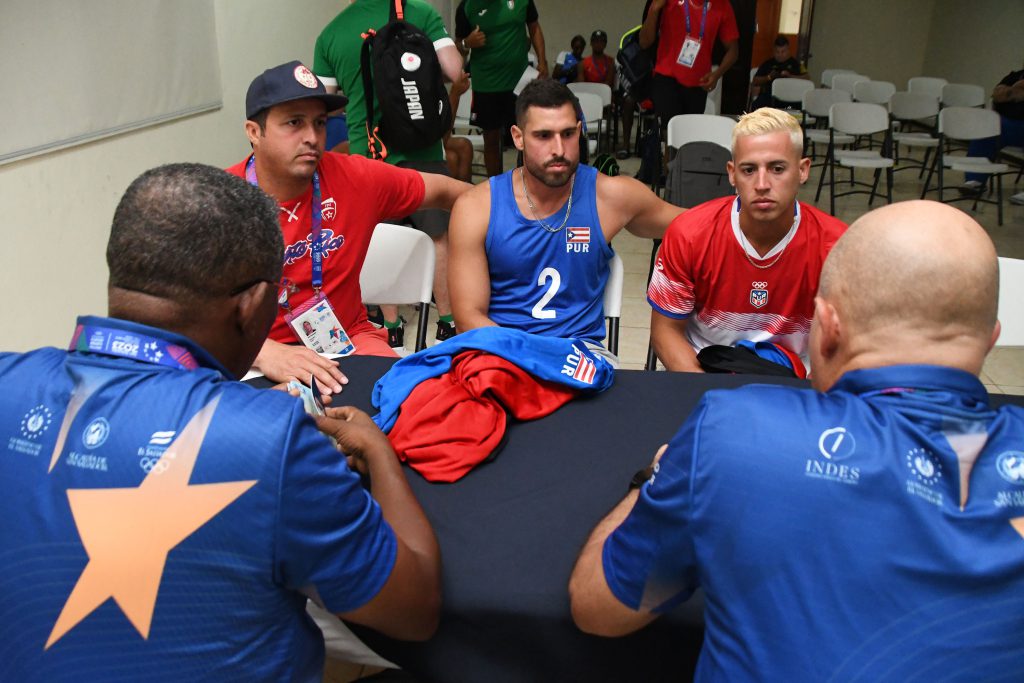 Pool Composition
Pool A: Mexico, Puerto Rico, Cayman Islands
Pool B: Colombia, Dominican Republic, Haiti
Pool C: Guatemala, St. Kitts & Nevis, St. Vincent and Grenadines, Martinique
Pool D: Venezuela, U.S.Virgin Islands, Antigua & Barbuda, Turks & Caicos
Pool E: Nicaragua, Cuba, Jamaica, Belize
Pool F: El Salvador, Costa Rica, St. Lucia, Panama
Wednesday morning schedule
PUR vs CAY 10:00 a.m. central court
DOM vs HAI 11:00 a.m.
GUA vs MQE 2:00 p.m.
SKN vs VIN 2:00 p.m. (court 2)
Equipos Hombres:
Dwight Bonnie /Cairon David, de ANT; Ernest Broaster/ Gabriel Nuñez, de BIZ; Jesario Ebanks/Casey Santamaria, de CAY; Juan Carlos Noriega/Yeferson De La Hode COL; Daniel Dyner/ Jhostin Varela, de CRC; Noslen Diaz/Jorge Luis Alayo, de CUB; Hayerling de De Jesus/ Oscar Martinez de DOM; Franklin Flores/Armando Guatemala de ESA; Andy Leonardo/Luis García, de GUA; Irvens Benjamin/Joseph Olando de HAI; Marc Lomeli/Austin Pippen de ISV; Ryck Webb/Martin Blake, JAM; Sheldon Descartes/Joseph Clercent de LCA; Juan Virgen/Miguel Sarabia, de MEX; Martel Bosqui/Brice Hardy de MQE; Rubén Mora/ Jefferson Cascante, de NCA; José González/Jason Quintero, de PAN; Kevin Rodriguez/ Josué Rivera de PUR; St Clair Hodge/Shaw Seabrookes de SKN; Scott Hawkins/Sebastian Simmons, de TCI; Rolando Hernández/José Gómez, de VEN; Small Jahmal/ Cluevvan Cumberbatch de VIN