ANTALYA, Türkiye, June 4, 2023.- The U.S. Women's National Team finished its first round of Volleyball Nations League (VNL) at 4-0 after beating host Türkiye 3-2 (25-22, 25-22, 22-25, 11-25, 15-9) on Sunday in Antalya.
This was the U.S. Women's third five-set win of the first four matches. An estimated crowd of 10,500 filled Antalya Arena.
Watch Volleyball Nations League 2023 live on VBTV
"Honestly, this was really special to play in," U.S. opposite Annie Drews said. "To see the way Turkish fans value volleyball is really incredible. This is a match I don't think I'll forget for a very long time."
The U.S. Women will be back on the court on June 13 when they play Croatia in Brasilia, Brazil.
The U.S. Women edged Türkiye in kills (62-61). Türkiye led in blocks (13-3) and aces (8-3). The U.S. scored 30 points on Türkiye errors while losing 21 points.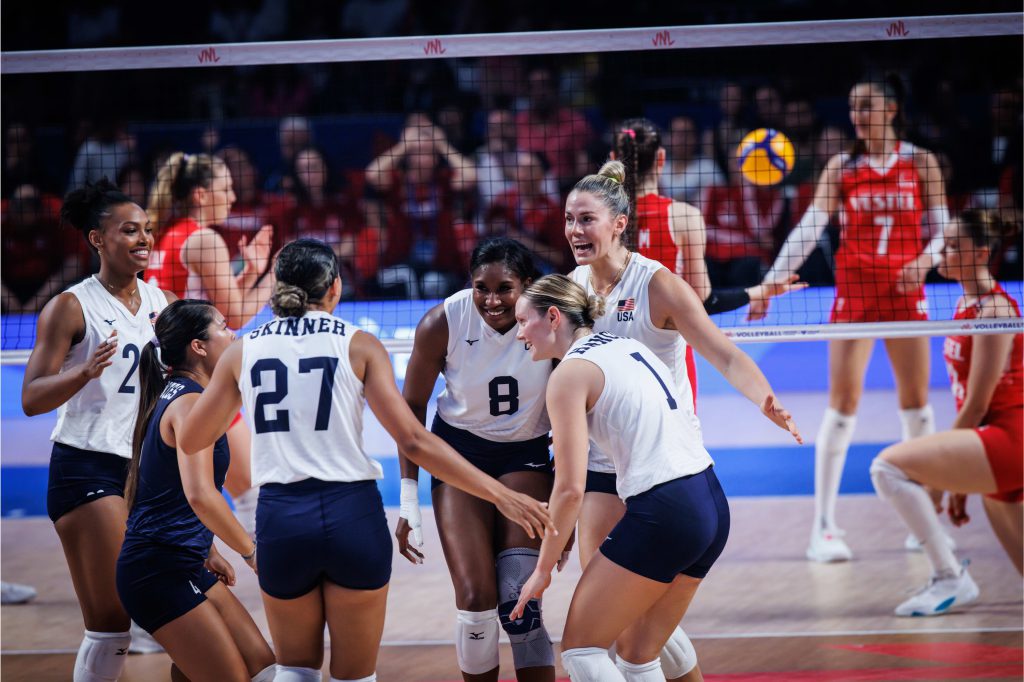 "Honestly, after the fourth set, we were in the mud," Drews said. "We could not be further in a hole. But we (said), 'We're going to be there. We're going to climb our way out of it. So just (take it) one at a time."
Drews led the U.S. scoring with 19 points on 17 kills and two aces. Outside hitter Avery Skinner added 16 points on 16 kills. Khalia Lanier scored 12 points on 11 kills and one ace.
Setter Micha Hancock led the team in digs with 13 and scored four points on three kills and one ace. Libero Justine Wong-Orantes was credited with 12 digs and four successful receptions. Skinner and Lanier each had seven successful receptions.
Among other scorers, middle blocker Dana Rettke scored nine points on eight kills and one block. Middle Asjia O'Neal, who took over for Brionne Butler in the second set, scored five points on four kills and one block. Butler had three points on three kills.
Opposite Danielle Cuttino, outside hitter Roni Jones-Perry and outside Brooke Nuneviller all played as substitutes.