PONCE, PUERTO RICO, August 13, 2023.- United States revalidated the bronze medal from last year in Sonora, Mexico; by winning this Sunday in four sets, 3-1 (25-22, 25-20, 21-25, 27-25) against the Dominican Republic in the closing of the XX Senior Women's Volleyball Pan American Cup at the Juan "Pachín Auditorium "Vicéns de Ponce.
United States dominated the fourth set, 23-21, and the Dominican Republic rallied to tie the score at 23-23, then 24-24 and finally 25-25. Then, United States got the two consecutive points to close the episode and the game.
This is the fifth bronze medal for the United States in the history of the Pan American Cup. Meanwhile, the Dominican Republic, who were the champions of the past two editions, finished in fourth place.
The American team dominated the Dominicans in attacks, 63-55. In blocks, 14-12, and in aces, 6-4, the Dominican Republic led the game.
Simone Lee was the top scorer for the United States with 23 points (19 attacks, 4 blocks); Logan Eggleston with 19 points (15 attacks, 1 block, 3 aces); and Stephanie Samedy with 16 points in attacks. For the Dominican Republic, Gaila González was the best scorer with 25 points (21 attacks, 4 aces); Geraldine González with 17 points (9 attacks, 8 blocks); and Brayelin Martínez with 12 points (9 attacks, 3 blocks).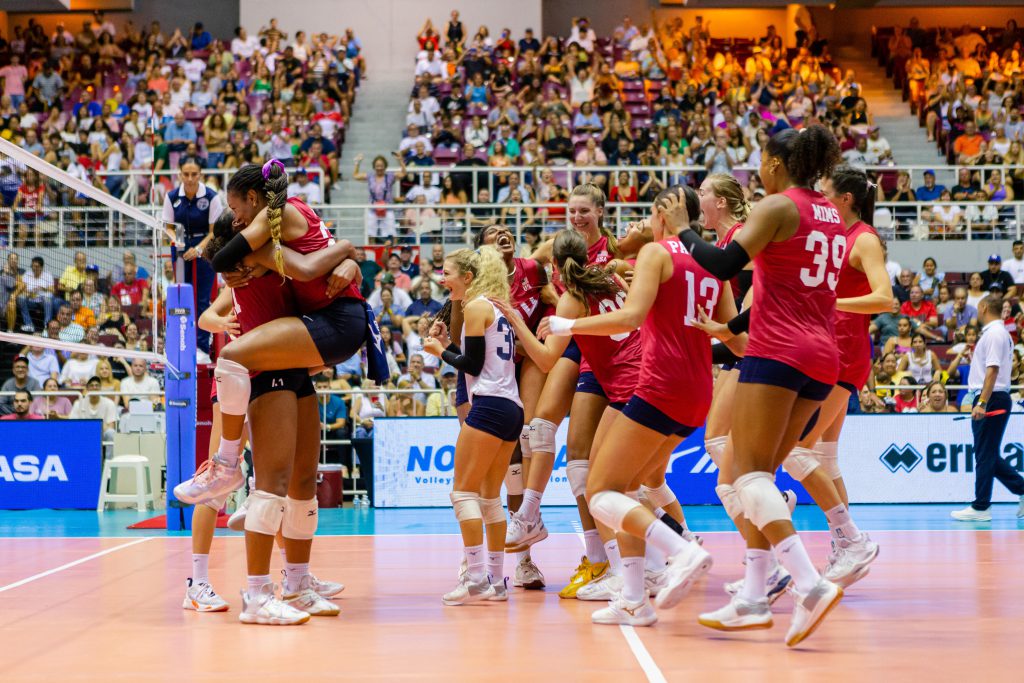 Brad Rostratter, Coach of Unites States: "I mean that game was electric, and Dominican is a very tough opponent and they played really well. It was a battle for that bronze medal match, and we couldn't be prouder to take it home. I think the most important piece is we've had different people step up in different moments and the more we stay together, the more we get better as a coaching staff and as a team. The better that is for us moving forward down to the Dominican Republic (Final Six)"
Simone Lee, Best Scorer of Unites States: "I'm really excited. We were down in the fourth set, and we were able to comeback really strong. I think that showed just a lot of our team's grit and fight especially after yesterday losing to Argentina in such a way and to have such a big turn around and play so well together as a team it just makes this moment even sweeter".
Marcos Kwiek, Coach of the Dominican Republic: "It wasn't what we wanted, obviously. We wanted to be playing in the final now, but we were able to get a lot out of the tournament. We had a lot of young players in the rotation, and they responded well. This tournament helped us to have the youngsters under pressure starting with the older ones, and that was very positive. Now, our total focus is on the Final Six, NORCECA Continental and the Olympic qualifier."