PONCE, PUERTO RICO, August 13, 2023.- Colombia and Peru starred in another South American duel at the XX Senior Women's Volleyball Pan American Cup at the Juan "Pachín" Vicens Auditorium in Ponce.
Colombia, who was down 2-1 in sets, made a comeback to win the match with scores of 22-25, 25-23, 19-25, 25-23, 15-7, against Peru and occupy fifth place in the tournament.
Both national teams met in the group stage and played five sets, Colombia taking the victory as well.
Amanda Coneo led Colombia's offense with 30 points (26 kills, 4 blocks); Ana Karina Olaya with 21 points (18 kills, 3 blocks); and Dayana Segovia with 10 points (9 attacks, 1 block). For Peru, Ysabella Sánchez with 21 points (18 attacks, 1 block, 2 aceS); Flavia Montes and Karla Ortiz added 10 points each.
Colombia dominated Peru in attacks, 72-58; in blocks, 14-11; and in aces Peru surpassed its opponent, 4-2.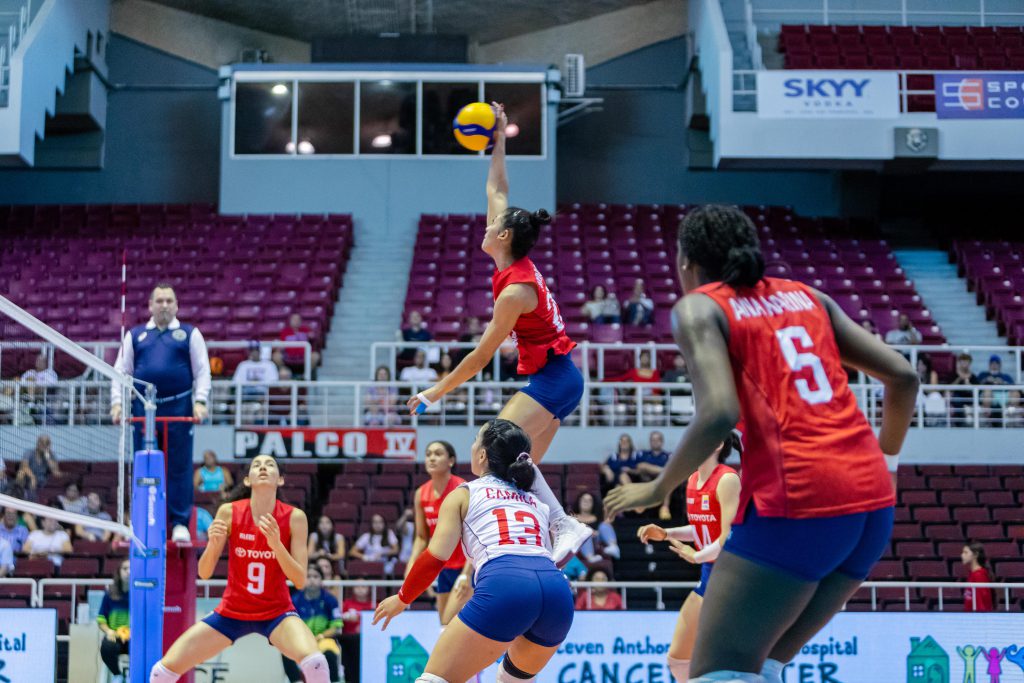 Antonio Rizola Neto, Coach of Colombia: "It's a great victory. We are here because of Cristóbal (Marte, president of NORCECA) Cristóbal put us here. Out of respect for him and his help we are here. It is a joy to come out with the victory and fifth place, it is an important position for Colombia. And I want to dedicate it to Cristóbal for the effort he has made for us to be here. Many thanks to Cristóbal and NORCECA".
Amanda Coneo, Colombia's Best Scorer: "We knew it was going to be like a final. Peru was not going to allow another defeat like the previous one. I am very proud of the team that knew how to handle the whole game. We kept a cool head to be able to advance in the other sets. Without them I can't do anything and each one had its moment. Thank God I was able to contribute to the victory".
Francisco Hervas Tirado, Coach of Peru: "For us it has been a very interesting tournament. We achieved a bit of what we were looking for, which was to give the team a run, try some things and we have the conclusions that we must continue working on how to improve in those fifth sets, which is costing us a little. I am happy with the work of the girls because they made a great effort in this very tough tournament".