BRASILIA, Brazil, June 15, 2023.- Reigning Olympic champions the United States became the second national team to get to six victories in the Volleyball Nations League 2023 on Thursday in Brasilia, Brazil.
The undefeated Americans took care of business against Thailand at the Nilson Nelson Stadium, producing a 3-0 (25-21, 25-18, 25-16) victory that elevated them to second place in the standings, just two points behind leaders Poland.
Watch Volleyball Nations League 2023 live on VBTV
Head coach Karch Kiraly's strategy of integrating some more experienced players into the young squad that played in the opening week for Pool 4 this week in Brazil has proven to be a successful one as the Americans relied on that mix to overcome the Asians, who have two wins in six matches and sit in tenth place.
Olympic champion opposite Jordan Thompson followed up on a strong VNL debut against Croatia on Tuesday, leading all scorers against Thailand, with 15 points (14 kills, one block). Other new faces this week, Olympic champion middle blocker Haleigh Washington and outside hitter Kathryn Plummer also scored in double digits, registering 11 and ten points, respectively.
The trio got great help from a pair of VNL rookies, Avery Skinner and Asjia O'Neal, who also had great performances, with the outside hitter delivering 14 points (13 kills, one block) and the middle blocker adding another 13, with eight kills and a match-high five blocks.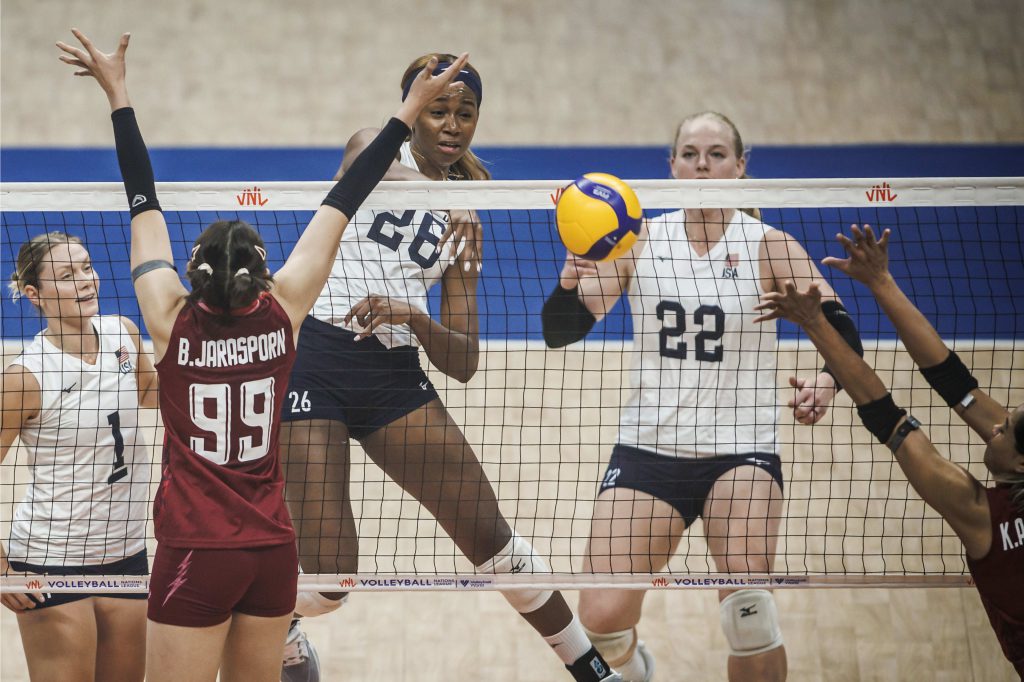 "Thailand run a really fast offense, so we were just trying to focus on our blocking," O'Neal commented. "We were just dialed in on what we could do and controlling our side of the court. We tried to stay calm at the net, they have a lot of players coming at you every play, but we knew that at one point, one of them would go into our zone."
The Americans won the match despite giving away twice as many points from errors as the Thai (15 to seven). The Olympic champions, however, were much better offensively, with 54 kills to 29, and also had the edge in blocks (11 to nine) and aces (three to two).
Volleyball Nations League 2023: full schedule and results
The Americans will have a full day off before playing Japan on Saturday, at 17:30 local time (20:30 UTC).