JUANA DIAZ, Puerto Rico, May 9, 2023.- United States opened the Girls' U19 NORCECA Pan American Cup with strength over the U.S. Virgin Islands 3-0 (25-6, 25-18, 25-12) on Tuesday at Dolores Martinez Coliseum in Juana Diaz, Puerto Rico.
The US squad had a strong opening performance leading 37-12 in kills, 8-1 in blocks and 11-2 in serves, but handed out 21 points from unforced errors against 19.
With eight points each, opposites Olivia Babcock and Logan Parks, along with outside hitter Kaci Demaria led the US scorers.
On the U.S. Virgin's side, outside hitter Anna Gillens led with 7 points and team captain Jala Dixon scored 6 points.
The next match in pool A for the United States will be against Costa Rica and the U.S. Virgin Islands will face Mexico.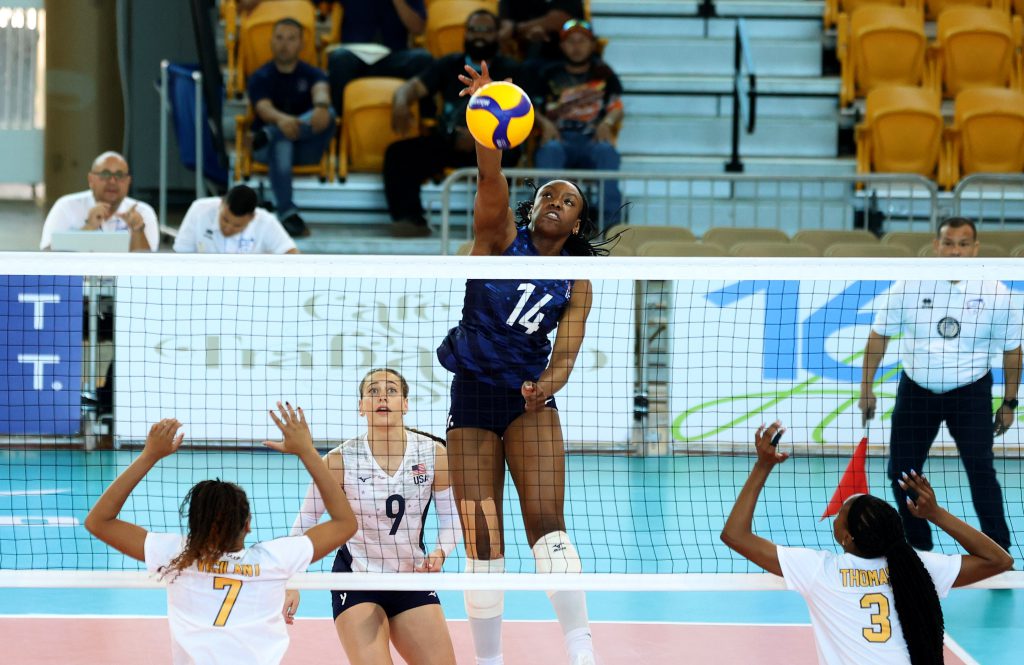 Julia Blyashov, United States captain: "We had a lot of fun today, it feels amazing. We were a little bit anxious and worried about showing how the U.S. plays because it's a big deal to wear the USA jersey. We are figuring out things together. There's a lot more that we can do, and we were a bit relaxed in the second and third sets. I am super excited to show what the USA is all about".
Jala Dixon, U.S. Virgin Islands captain: "We played a great game today; we went out fighting strong and I am so proud of my team. I can't wait to see what the whole week has for us. We need to be steadier with our service, at the beginning the team was shaky but we progressed as the match developed. Overall, we did great".
Keegan Cook, United States coach: "In the first and second set we were a little disorganized in serve-receive and a few too many service errors, but when it was good it was really good, and I enjoyed watching some players making their debut. By the end of the tournament the girls will be better in communicating".
Isaac Raphael, U.S. Virgin Islands coach: "This is the first time ever being in a competition at this level with this age-group and facing USA as a first match was a bit tough. We relaxed a little bit more in the second set and I am not disappointed, we know there's a lot to work on, it's a great experience for the girls".