Sept. 24, 2023: USA beat Canada today at the NORCECA Pan American Cup Men's Final Six, held September 19 to 24 at the Flair Airlines Hangar (Expo Centre), in Edmonton, Alberta.
The final gold-medal match score was 3-0 (25-21, 25-14, 25-16).
USA dominated in attack points 40-29, blocking 13-1, and serving 6-1. Canada made fewer errors – 16 to 20.
Ethan Champlin was USA's top scorer at 16 points (including two blocks and two aces), Camden Gianni and Patrick Gasman added 13 points each.
Isaac Heslinga and Christopher Byam led Canada with nine points each.
Earlier Mexico won bronze over Cuba; and Puerto Rico beat Dominican Republic for fifth place.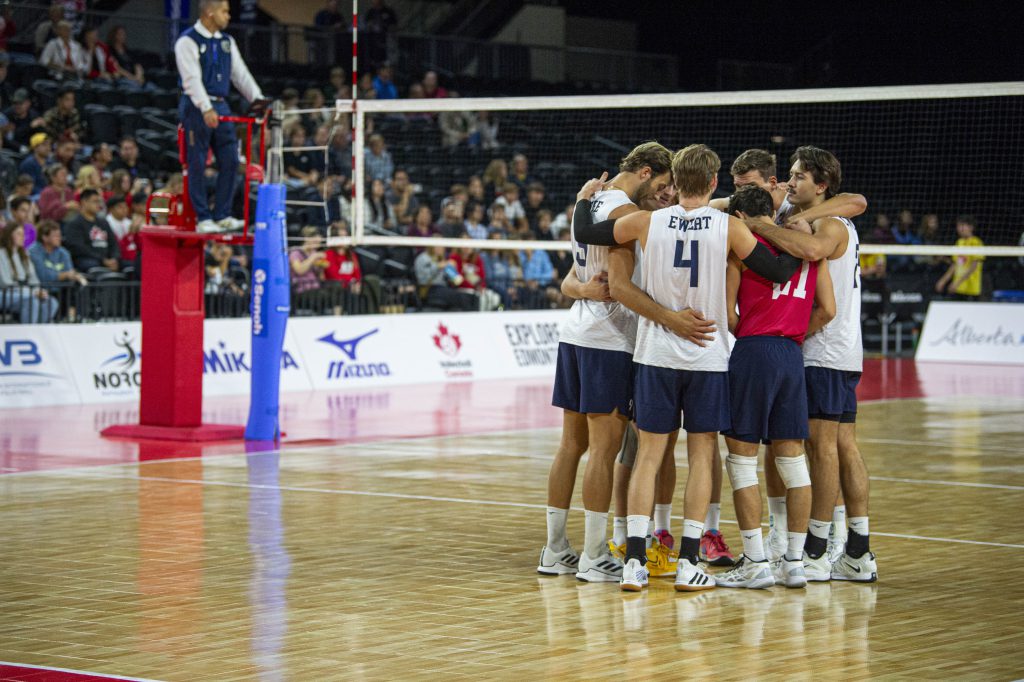 Andy Read, head coach of USA, "I think we played a really complete tournament. Our goal was to be better every day and we did that. The standard was 'let's be the best we can be.' I am super proud of our guys…. It was a great tournament, thanks to the organizers and volunteers."
Patrick Gasman, captain of Team USA, "We have a lot of experience on our team helped us out and it came down to effort and energy and we played within our system and got the job done. It was a good tournament for us; we wanted to build upon every game, and I think we showed that."
 
Isaac Heslinga, captain of Team Canada, "I go to school at University of Alberta (in Edmonton), so seeing friends and family in the crowd, it means a lot to us.  The whole atmosphere brings such life to the game and it makes it more fun for us. .. Each game we improved bit by bit. Overall, it was a good experience and we really wanted to play the U.S. again (in round robin and final), it was lot of fun to test ourselves against them".