COSTA DEL SOL, El Salvador, June 20, 2023.- The Women's Beach Volleyball Tournament at the 2023 San Salvador Central American and Caribbean Games will start on Wednesday at 8:00 a.m. (local time) with 23 tandems aiming for gold.
The winner of the gold medal at last year's Junior Sea and Beach Games in Santa Marta, Colombia, Allanis Navas and María González of Puerto Rico have their minds set to top the podium.
Allanis, who finished fourth place at the previous Central American and Caribbean Games in Barranquilla, Colombia said "we've had a great preparation plan; we've completed the entire program planned by our coach and that's given us good results. This tournament will be a close competition, there are good duos, but we hope to keep our momentum and improve our performance from our previous tournaments".
Cubans Yenifer Rivera/Amanda Armenteros, inherit the dynasty of Leila Martinez, alongside Lianma Flores and later with Mailen Deliz, who won for Cuba the past two editions of the CAC Games. Cuba has overall three gold medals as does Mexico.
"We are a young pair, very new, but we've been performing well. In the Junior Sea Games, we lost the gold medal match to Puerto Rico, and we believe we can do better. We are focused and ready to keep on giving our best," said Rivera.
Ivonne Soler of El Salvador is back at the Central American and Caribbean Games after 21 years, "my first Games and my first important event was here in 2002, and it's exciting and an honor representing my country, with my people. We hope they will come out to support us, to motivate us because we are willing to give our all for them to be proud of us".
There are 23 countries competing in the women's beach volleyball event, divided in 6 pools.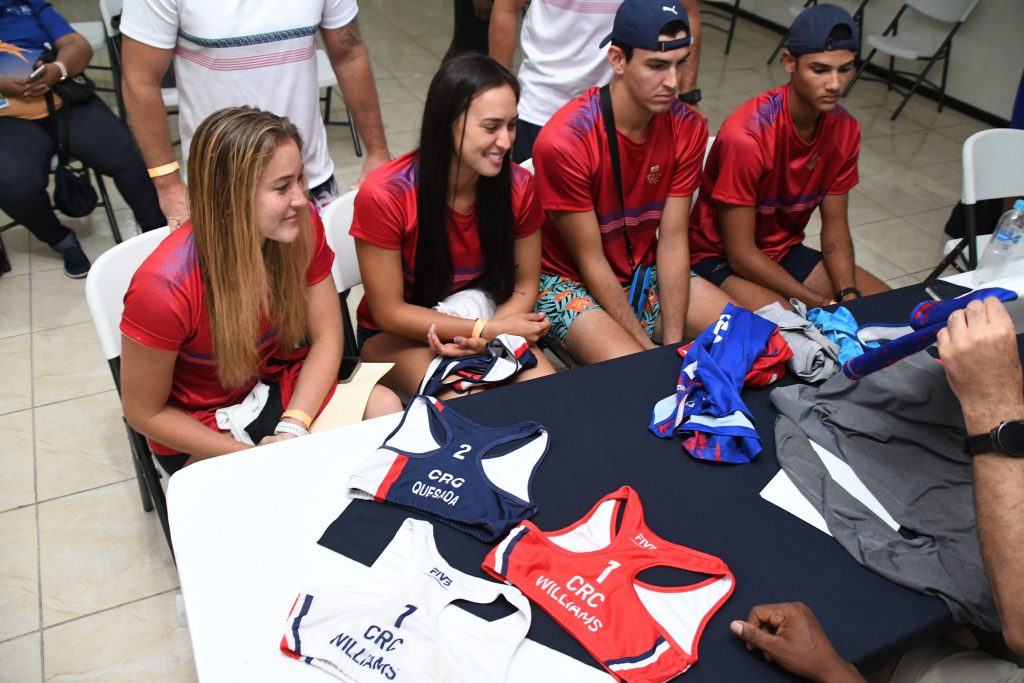 Composición de Grupos
Pool A: Mexico, Cayman Islands, Jamaica.
Pool B: Colombia, Dominican Republic, Bermuda, Suriname
Pool C: Guatemala, U.S. Virgin Islands, Antigua & Barbudas, Panama
Pool D: Venezuela, Nicaragua, St. Kitts & Nevis, Grenada
Pool E: Puerto Rico, Costa Rica, Trinidad & Tobago, Honduras
Pool F: El Salvador, Cuba, St. Lucia, Belize
The first and second places from each pool will advance to the eight finals, while the last positions will play a consolation round.
Wednesday schedule
CAY vs JAM 8:00 a.m. Central Court
COL vs SUR 9:00 a.m.
DOM vs VER 9:00 a.m. Court 2
GUA vs PAN 12:00 Central Court
ISV vs ANT 12:00 Court 2
Women's Teams:
Zellene Edwards /Josanne Lewis, de ANT. Lisa Leblanc/Megan Calhoun de BER. Nelissa Ramirez/Shantell Arnold de BIZ. Deajra Tulloch/Chlouie Gaetos de CAY. Ana Maria Beltrand/Yaleny Moreno, de COL, Angel Williams/Kianny Araya, de CRC. Yenifer Rivera/Amanda Armenteros de CUB; Julibeth Payano/Bethania Almanzar, de DOM. Yvonne Soler/Laura Molina, de ESA; Thornia Mitchell/Renisha Stafford de Granada. Natalia Girón/Estefanie Bethancourt de GUA; Xue Nicole Murillo/Reizel Bruhier, de HON; Cristina Almeida/Amber Benneth, de ISV; Chauna Kelly/Petal Smith, de JAM; Denila Prospere/Kerin Neptune, de LCA; Abril Flores/Atenas Gutierrez, de MEX; Nahima Silva/Lolette Rodriguez, de NCA; Ingrid Lezcano/Hashlyn Cuero de PAN; Maria Gonzalez/Allanis Navas, de PUR; Brenda Allen, Genelle Howell, de SKN; Chagnaz Frankel/Janneke Tammenga, de SUR; Teisha Joseph/Apphia Glasgow, de TTO; Gabriela Brito/Juliennis Regalado, de VEN.