VARADERO, Cuba, May 12, 2023.- The second phase of the NORCECA Beach Volleyball Tour will consist of 32 duos from 16 nations running from this Friday until Sunday at the attractive scenery in front of the Barceló Arenas Blancas Hotel.
16 pairs per gender arrived at the famous tourist empire – at 142 kilometers of Havana – who took part at the preliminary and technical meetings, presided by Mireya Luis, in charge of the organizing committee, and Julio Martinez, director of competition.
The competition starts with a round robin pool-play, four in each gender. The organizers have set up the same number of courts.
In the women's field, United States, Canada and Cuba have two teams, while in men the visitors present only one and only the hosts have two duets, with their best performers of the moment.
These countries are labeled as favorites to battle for the medals, but Mexico and Puerto Rico join in women with real options of taking a medal.
Atenas Gutiérrez, who back home won the first stage alongside Abril Flores, is competing in this occasion with Susana Torres.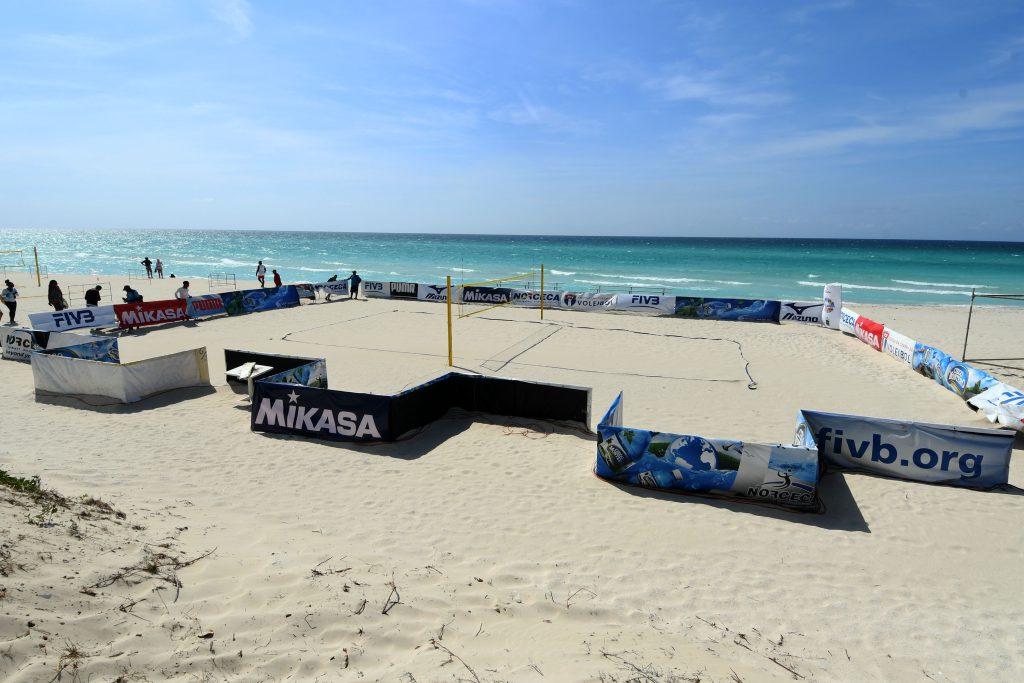 Waiting for revenge are the losers of that final, from the United States Geena Urango and Carly Skjodt, maybe with more possibilities of removing the thorn, because Atenas is adjusting with her new partner.
Nevertheless coming back on the sand are worldwide known on this blue beach, Puerto Ricans Allanis Navas and María González, first Champions of the first Central American and Caribbean Games of Santa Marta 2022 and runner ups of the Junior Pan American Games of Cali 2021, among other tournaments.
Navas and González in Santa Marta´s, Colombia final, topped surpassed the Cuban duo of Amanda Armenteros and Yenifer Rivera, and admitted their goal is to conquer this stage's gold.
The NORCECA Tour adds ranking points to the Confederation's qualification to the Pan American Games of Santiago 2023 and the massive participation in Varadero is proof of the team's interest in winning a spot at the Chilean Games.
Men's teams
ANT Adrian Constant/Cairon Davis; CAN Jake MacNeil/William Russell; CRC Daniel Dyner/Jhostin Varela; CUB Noslen Díaz/Jorge Luis Alayo, Lázaro Portes/Daniel Martínez; DOM Oscar Martínez/Francisco Goris; ESA Franklin Flores/Christopher Guardado; GUA Andy Leonardo y Luis García; ISV Cullen Diehl/ Andrzej Ozarski; MEX Jorge Barajas/Gabriel Cruz; NCA Rubén Mora/Denis José López; PUR Kevin Rodríguez/Josué Rivera; SKN Hendrickson Nage/Ward Clerique; TTO Daneil Williams/Fabien Whitfield; USA Troy Field/Tucker Silila; VIN Martin Jad/Jahhmal Small.
Women's teams
CAN Ruby Sorra/Lea Monkhouse y CAN Devin Corah/Adriel Goodman; CRC Ximena Núñez/Kianny Quesada; CUB Nahomi Charlot/Maykelín Drik y CUB Yenifer Rivera/Amanda Armenteros; DOM Esmeralda Ramirez/Julibeth Payano; ESA Yvonne Soler/Laura Molina; GUA Natalia Girón/Estefanie Guerra; ISV Anz-Cristina Almeida/Amber Bennett; JAM Anesia Edwards/Petal Smith; MEX Susana Torres/Atenas Gutiérrez; NCA Margarita López/Lolette Rodríguez; PUR Allanis Navas/María González; USA Katie Lindstrom/Teegan Van Gunst y Geena Urango/Carly Skjodt; VIN Nikita Campbell/Shelena O'Garro.