AGUASCALIENTES, Mexico, April 23, 2023.- Atenas Gutiérrez and Abril Flores of Mexico won their first gold medal at the NORCECA Beach Volleyball defeating USA's Geena Urango and Carly Skjodt 21-13, 21-19 at the first stage of the tour in Aguascalientes.
With quick defense from Atenas and keen offense from Abril, the Mexican pair celebrated their first championship win in front of the home crowd at Plaza de Armas in downtown Aguascalientes, but not before losing two-match points (20-17) to Geena and Carly who were battling for a tie-break.
"I won a bronze medal last year with Katherine," said Abril Flores. "This gold is really exciting, we are glad because we've been practicing as a team for a short time and we are having good results, it's a motivation to our program" she added.
For Atenas this is her first medal at NORCECA, and she explained "we managed to control the entire game and we kept focused on our objective of winning the gold medal". She said this is a dream come true, "we work well as a team, and we've improved a lot thanks to our coaches".
Mexico also won the bronze medal of the event with Katherine Albarrán alongside Susana Torres who had no setbacks in defeating Katie Lindstrom and Teegan Van Gunst of the United States 21-16, 21-17.
This is Susana Torres first NORCECA medal and the second for Katherine Albarran, her first also a bronze medal from last year in Managua.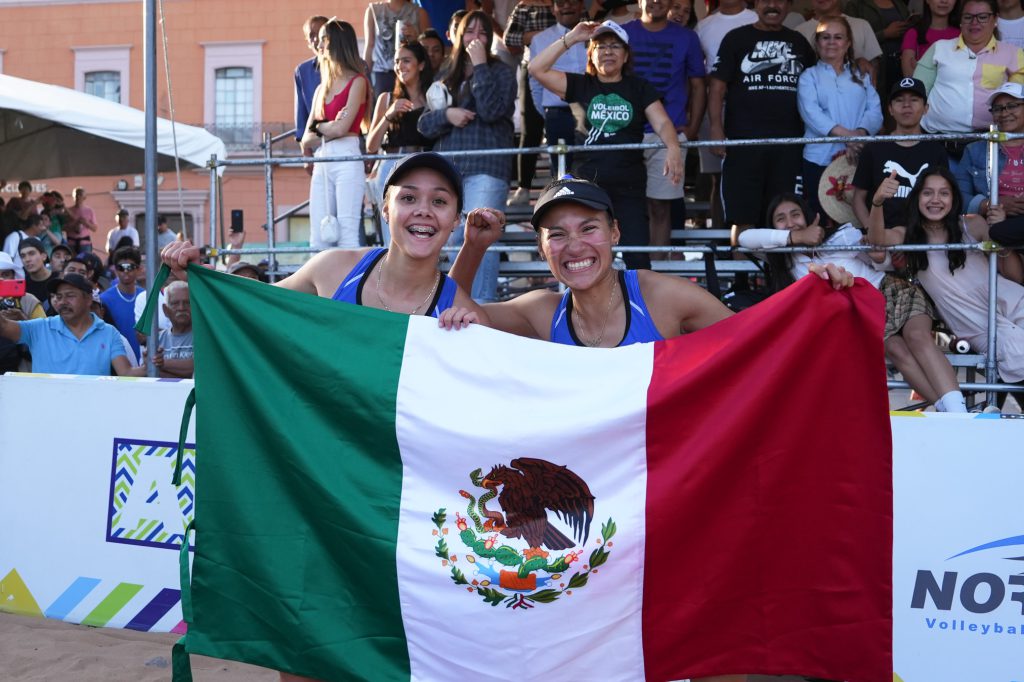 Atenas Gutiérrez and Abril Flores reached their first ever NORCECA Beach Tour final match winning their semifinal to Katherine Albarrán and Susan Torres by a close 21-19, 22-20. Atenas' serves were an important weapon in keeping Albarran and Torres out of their element.
Geena Urango and Carly Skjodt earned a bye into the gold medal match because Katie Lindstrom and Teegan Van Gunst forfeited due to an injury.
Results and photo gallery at Aguascalientes 2023 NORCECA Beach Tour
In other results of the day, Canadians Alison Mckay/Katherine Wuttunee finished fifth place against Guatemala's Natalia Giron/Estefanie Bethancourth in a close 21-19, 23-21. Previously Aly and Katie prevailed 21-13, 21-11 against Williams/Nuñez of Costa Rica, while Giron/Bethancourt needed three sets 2-1 (21-19, 17-21, 15-10) to beat Mexicans Vargas/Vidaurrazaga.
In the match for seventh place Itzel Vargas/Yeray Vidaurrazaga of Mexico topped Costa Rica's Angel Williams/Ximena Nuñez 2-0 (21-14, 21-16) who finished eighth.
Marcelle/Monkhouse of Canada beat Soler/Molina of El Salvador 21-10, 21-19 for ninth place and Bennett/Almeida-Anz of the U.S. Virgin Islands took eleventh place 2-0 (21-10, 21-15) over Powery/Tulloch of Cayman Islands.