AGUASCALIENTES, Mexico, April 22, 2023.- Juan Virgen/Miguel Sarabia and Gabriel Cruz/Oziel Aguirre of Mexico, joined by Canada's Liam Kopp/Arran Chambers and USA's Chase Frishman/Cody Caldwell are in Aguascalientes men's semifinals, the first stage of the 2023 NORCECA Beach Volleyball Tour.
The two Mexican tandems will meet in Sunday's first men's semifinals at 10:00 am (local time) followed by the semifinal between Kopp/Chambers (CAN) and Frishman/Caldwell (USA).
Juan Virgen and Miguel Sarabia moved into semifinals beating Andy Blanco and Luis Garcia of Guatemala 2-0 (21-10, 21-10), while Gabriel Cruz alongside Oziel Aguirre defeated Canada's Jake MacNeil and Alexander Russell 21-14, 21-17.
Liam Kopp and Arran Chambers of Canada stopped Mexico's Jorge Barajas and Ricardo Galindo in quarterfinals in three exciting sets 2-1 (21-14, 16-21, 16-14). This was Kopp and Chambers' second tie-break win of the day, earlier they struggled to overcome Williams/Whitfield (TTO) 14-21, 21-14, 15-8 and finish second in Pool A.
Chase Frishman and Cody Caldwell won the all-American quarterfinal 2-0 (21-15, 21-19) to Brandon Joyner and Alex Diaz in the last match of the day.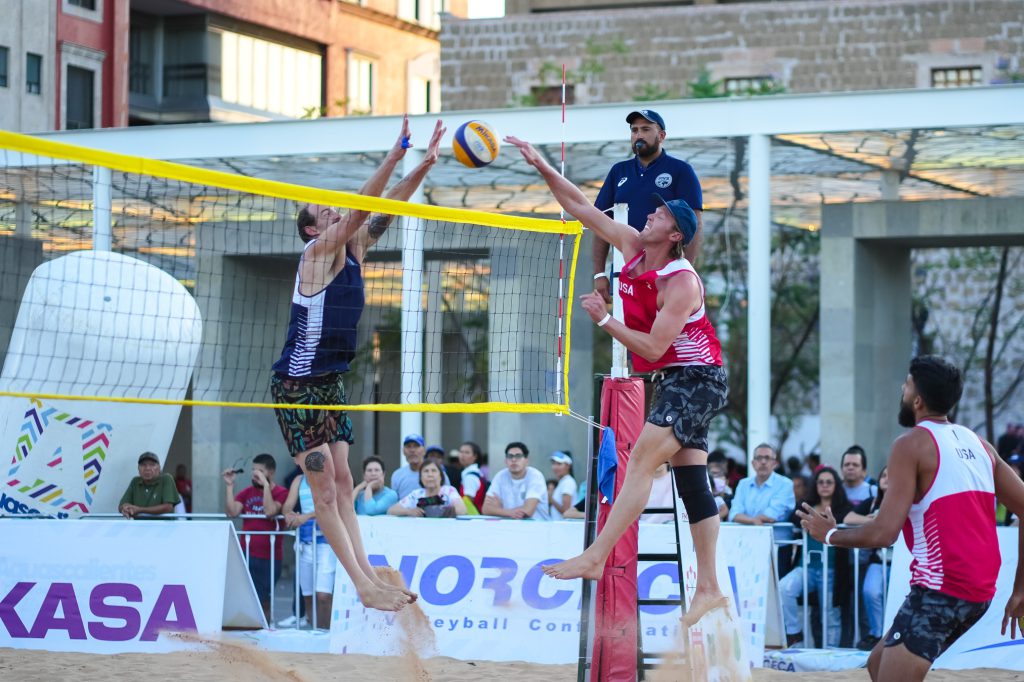 The competition is being streamed on Facebooklive Courtside
Earlier in the day, Virgen/Sarabia topped Pool A winning their last preliminary round match to Rubén Mora and Dany López of Nicaragua 21-12, 21-17.
As for the other two Mexican teams, Jorge Barajas and Ricardo Galindo won the battle for first place of Pool B over Guatemala's Andy Blanco/Luis García 2-0 (21-15, 21-16) and Gabriel Cruz with Oziel Aguirre remarkably recovered from falling in the first set to beat USA's Brandon Joyner/Alex Diaz 2-1 (14-21, 21-15, 15-10) for Pool D first place.
In Pool C, USA's Chase Frishman and Cody Caldwell secured first place after defeating Jesario Ebanks/Casey Santamaria of Cayman Islands 21-9, 21-7. Canada's Jake MacNeil and Alexander William Russell advanced into quarterfinals second of Pool C over Daniel Dyner/Jhostin Varela of Costa Rica 21-19, 21-16.
For the full schedule and results visit Aguascalientes 2023 NORCECA Beach Tour
The bronze medal match is programmed at 2:40 pm and the gold medal match at 4:00 pm.