Quebec City, CANADA. August 30, 2023: Canada won their second-straight match of the 2023 NORCECA Senior Women's Volleyball Continental Championship in Quebec City, earning a bye to the semifinals on September 2.
Despite a hard push from Puerto Rico in the third and ultimately final set, the Canadians took the match 3-0 (25-18, 25-13, 25-23), marking their second sweep in as many games. With the win, Canada clinched first place in Group A, allowing them to move past the quarterfinals and into the top-four. They'll now see how the results play out over the next two days of the tournament before finding out who they'll face in the semifinals.
Captain Alexa Gray led scoring with 12, followed closely by Emily Maglio and Kiera Van Ryk with 11.
Canada led in both attacks (35-29) and block points (14-6), while Puerto Rico had one more ace than Canada 2-1.
On the Puerto Rican roster, it was Neira Ortiz, Elaine Vazquez Rivera, Pilar Marie Victoria, who carried the team in points with eight apiece.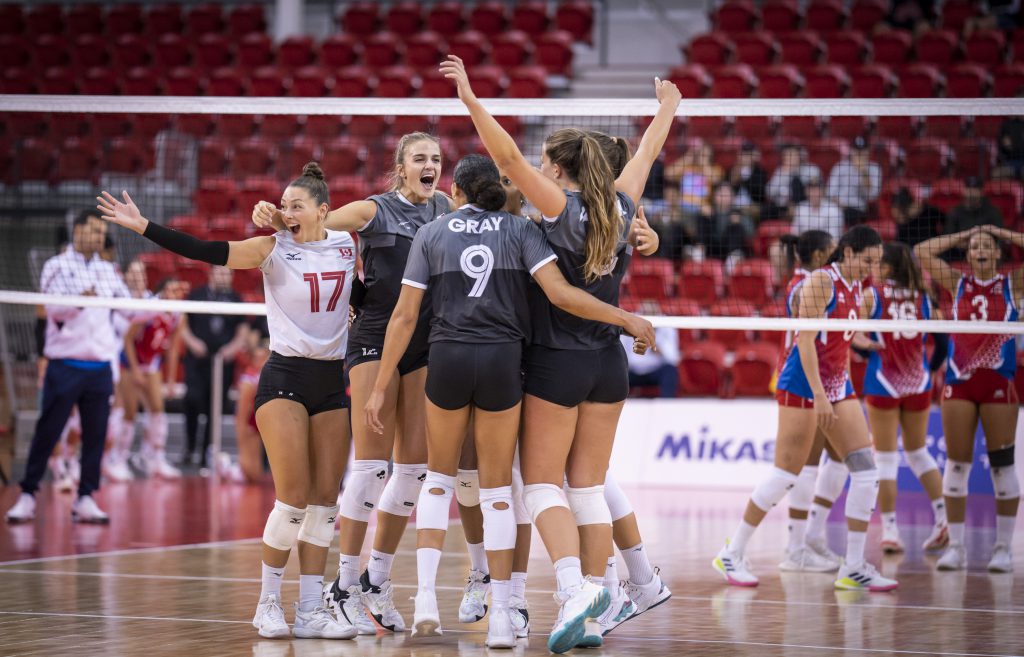 Fernando Morales, head coach of Puerto Rico: "I think we played a great match. We know they're a great team and they played a great match, so when they play at that level it's hard. We didn't play our best match either. We came back in that third set and that was important for us. Knowing how important tomorrow's game is for us, ending on that note is very important. We're going to go study the game, study Mexico, and we know that our chances to be in the top four – that was our main goal – it's 90 percent of winning tomorrow so we have a better quarterfinal crossover sitting in second than third."
"We were trying to get back to 100 percent, we had two players out sick and one injured so we're trying to move them around and see what works best for us. Hopefully by tomorrow we get a good rhythm and can finish the tournament on a good note. Tomorrow is the most important match of the tournament for us. If we win tomorrow, then we get a good rhythm going into the quarterfinals and then to that top four."
Shannon Winzer, head coach of Canada: "I thought we played good volleyball tonight, we were pretty clean. I thought Brie (King) did a great job of running the offense. What we saw was Puerto Rico really show up and battle towards the end. They played amazing defense and it made for an exciting finish. I thought we executed the game plan well and we played good volleyball."
"I think we'll probably take one day off and then get back to practice. We're going to have a really strong opponent on Saturday, so making sure that we're well rested but also that we're really sharp and prepared for that game. I think it's no different then when we're playing VNL when we get that day or two off."