SANTIAGO, Chile, October 23, 2023 – Brandie Wilkerson/Melissa Humana-Paredes of Canada, Corinne Quiggle/Sarah Murphy of the United States, Atenas Gutiérrez/Abril Flores of Mexico, and Ana Patricia/Duda of Brazil advanced directly to the quarterfinals of the Women's Beach Volleyball tournament at the Santiago 2023 Pan American Games.
Brandie/Melissa finished undefeated in Group D, after beating Erika Mongelos/Michelle Valiente of Paraguay 2-0 (21-13, 21-8) on day three of competition.
In the other group match, Julibeth Payano/Bethania Almanzar (DOM) prevailed 2-0 (32-30, 21-19) against María Bianchi/Sol Acuña (URU) after a long battle in which both teams saved five set points in the first set.
In Group B, Corinne Quiggle/Sarah Murphy of the United States won 2-0 (24-22, 21-17) against Ana Gallay/Fernanda Pereyra of Argentina, securing the top spot and advancing to the quarterfinals. Lisbeth Allcca/Claudia Gaona (PER) defeated Natalia Girón/Paola Alvarado (GUA) 2-0 (22-20, 21-10).
In Group A, Atenas Gutiérrez and Abril Flores of Mexico defeated Chilean pair Chris Vorpahl/María Rivas 2-0 (21-14, 21-15), securing their ticket to the quarterfinals. The local team will play an elimination match against Diana Ríos/Margarita Guzmán of Colombia, who finished third in Group C.
Karelys Simisterra/Ariana Vilela of Ecuador won 2-0 (21-15, 21-18) against Angel Williams/Kianny Quesada of Costa Rica, taking third place in the group.
In Group C, Ana Patricia and Duda of Brazil claimed the top spot after a 2-0 (21-15, 21-11) victory over María González/Allanis Navas (PUR), while the Colombian pair Diana/Margarita defeated Yvone Soler/Laura Molina (ESA) 2-0 (21-13, 21-10).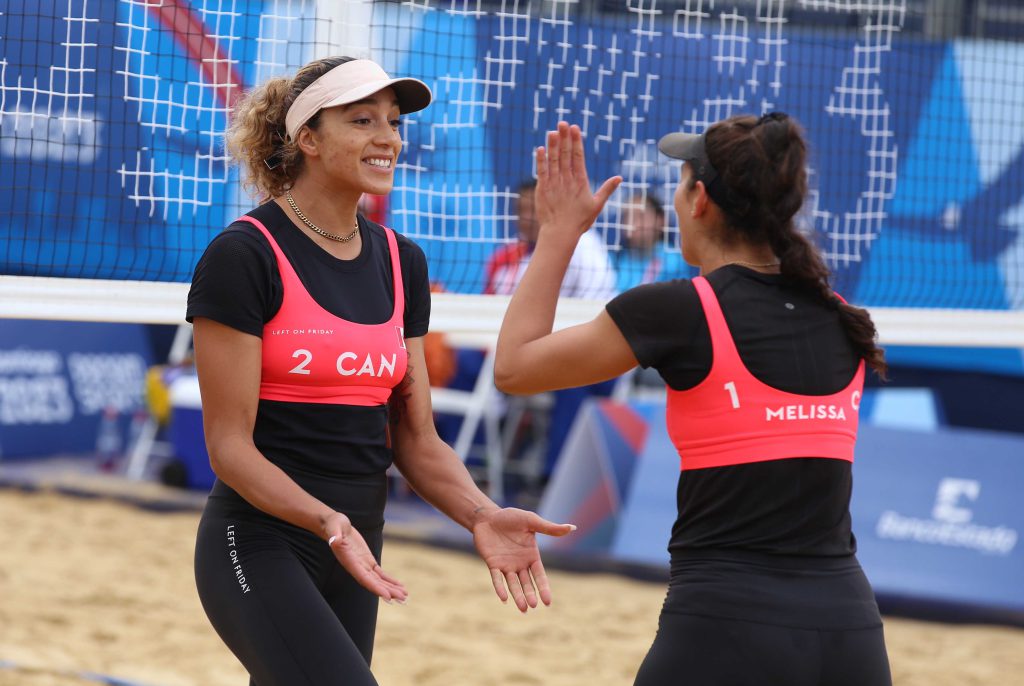 These are the Round of 12 matches scheduled for Tuesday; the winners will advance to Wednesday's quarterfinals:
Gallay/Pereyra (ARG) vs. Payano/Almanzar (DOM); the winners will face Mexico.
González/Navas (PUR) vs. Karelys/Ariana (ECU); the winners will go against Canada.
Erika/Michelle (PAR) vs. Peru (Allcca/Gaona); the winners will face Brazil.
Rivas Zapata/Chris (CHI) will compete against Diana/Margarita G (COL); the winners will take on the United States.
Classification for 13th-16th place:
Bianchi/Acuña (URU) vs. Williams/Quesada (CRC)
N. Girón/Alvarado (GUA) against Soler/Molina (ESA)