SANTIAGO, Chile, 23 de octubre de 2023.- Mexico upset Chile in front of the home crowd winning second place of Pool A with a 3-1 (24-26, 25-21, 25-15, 25-18) victory on Monday night at the Santiago 2023 Pan American Games in the Arena Parque O'Higgins on Monday at Arena Parque O'Higgins.
Mexico finished the preliminary round with a 2-1 record for second place in Pool A. Chile with 1-2 took third place.
In Tuesday's Quarterfinals, Mexico will face Puerto Rico and Chile plays Argentina. The winners advance to Wednesday's semifinals.
Mexico recovered from losing the first set, snatching two set points (22-24) before the thrilling 26-24 win for Chile.
Mexico held a 64 to 39 advantage in attacking points and with a 9-8 margin in blocks. Chile scored 6 points from serves against 5 and committed fewer unforced errors (20-28).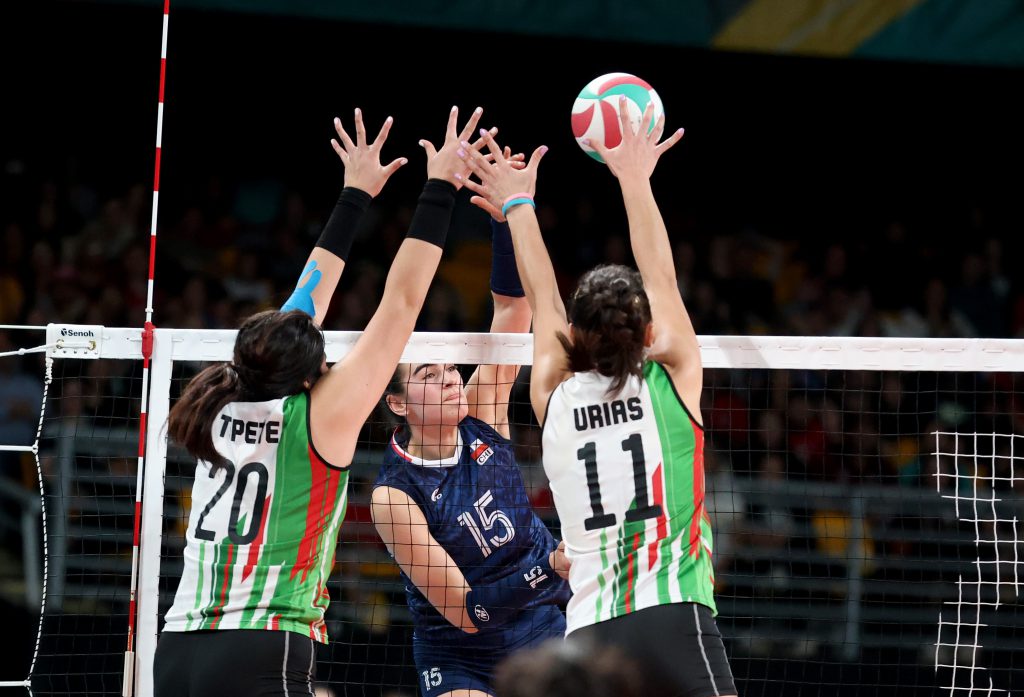 Mexican outside hitter Grecia Castro scored a tournament-high of 27 points so far, on 25 kills, one block and one ace. Opposite Karen Rivera contributed 17 points on 16 kills and one block, followed by middle blocker Jocelyn Urias with 14 points including a match-high of four stuff blocks.
Outside hitter Beatriz Novoa led Chile with 21 points on 17 kills, two blocks and two aces. Opposite Petra Schwartzman added 11 points on 8 kills and three blocks.
Grecia Castro of Mexico spoke excitedly, "What can I say? I've got the adrenaline pumping. From the beginning we really wanted to win this match, and we knew it would be a tough game against the world, with 12,000 people around us. I confess we enjoy playing with the crowd against us, we have much more fun. It was a very crucial match!"
Petra Schwartzman of Chile said, "We knew it was a tough match, we gave it everything we had, and sometimes things just didn't work out. We needed to be a bit more organized, especially in our serves. These are aspects of the game, and now we'll see what comes next".