PONCE, PUERTO RICO, August 12, 2023.- The Puerto Rican National Team will play for the gold medal against Argentina by defeating the Dominican Republic this Saturday in five exciting sets, 3-2, in semifinals of the XX Pan American Cup Senior Women's Volleyball at the Juan "Pachin" Vicens Auditorium in Ponce.
Puerto Rico took the victory with partial scores of 25-18, 21-25, 20-25, 25-22, 15-7.
The Puerto Ricans made a great comeback after losing the second and third sets, to extend the match to a fifth set. Puerto Rican spiker Paola Santiago was the protagonist of the decisive set. With Santiago on serve, Puerto Rico achieved a rally of five consecutive points, including two aces, to obtain a 7-3 lead. She herself attacked for an 8-3 advantage. Puerto Rico had control of the set to win 15-7 and struck out her ticket to the final. Santiago scored seven of Puerto Rico's 15 points in the fifth set.
Alondra Vázquez was the best scorer for Puerto Rico with 22 points (20 attacks, 2 blocks); Pilar Victoria with 15 points (11 attacks, 3 blocks, 1 ace); and Paola Santiago with 14 points (12 attacks, 2 aces). For the Dominican Republic, Bethania de la Cruz with 20 points (14 attacks, 2 blocks, 4 aces); Brayelin Martinez with 17 points (15 attacks and 2 blocks); and Gaila Gonzalez with 17 points (15 attacks and 2 blocks).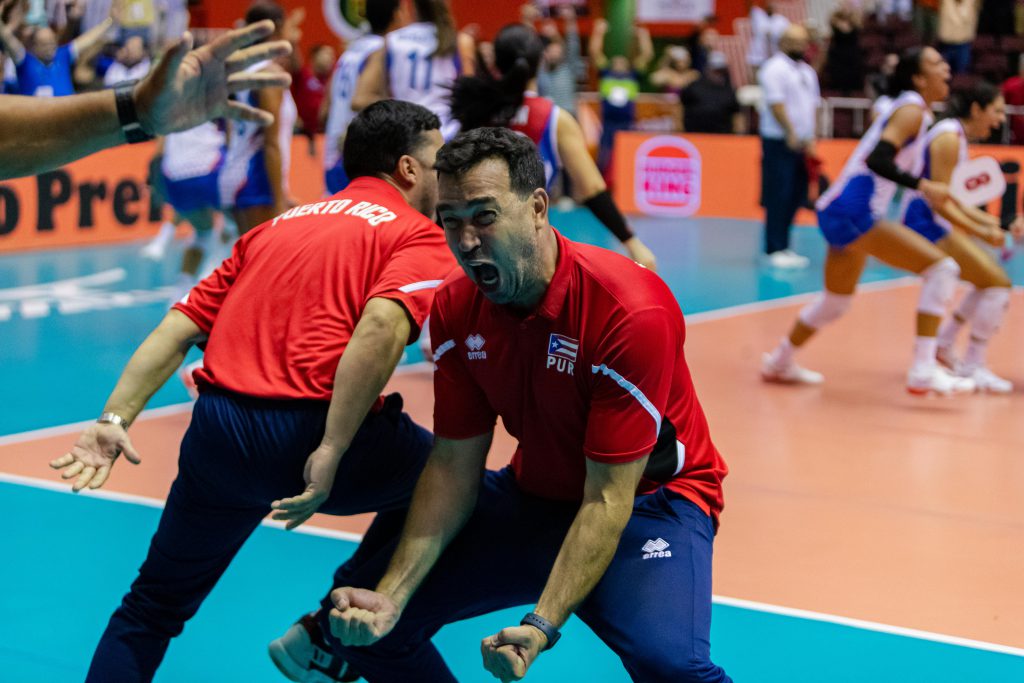 Fernando Morales, Coach of Puerto Rico: "Victory has arrived! We've been waiting 11 years for this. We knew this group was going to do it. Maybe we didn't think it was going to be so soon, but we knew they would. They didn't go away, without our two most important players Brittany (Abercrombie) and Shara (Venegas). This group does not give up. They don't doubt them. They are not afraid of anyone, and they have shown it. We had a bad game against Mexico, we came back, and we had three good games in a row (all to five sets). The key today was aggressiveness and Paola Santiago, who came off the bench, changed our game in everything: offensively, serving, she made the rally, and the digs. She did everything in the fifth set. We will look for the gold tomorrow (against Argentina). We are already here; tiredness won't be a factor. The tournament has been long and strong, but we don't have to think about anything else".
Paola Santiago, Outside Hitter of Puerto Rico: "I have no words about this victory. It was great teamwork. We all contributed to this victory. I am very proud of the work we have done this summer. I stayed calm and followed Fernando's (Morales, coach) instructions to serve Brayelin (Martínez). He was cold-hearted to attack her with the serve and that's how it was".
Marcos Kwiek, Coach of the Dominican Republic: "It was a good game. A match in which Puerto Rico was very good in the fifth set. The entire game was good. In the fifth set we were way down. They pressured us well from the beginning with the serve and we didn't know how to react. Congratulations to them. Tomorrow we will fight for that bronze (against the United States). We are going to go out as usual, a team that will seek the medal and the results, which is very important for us".