GUATEMALA CITY, Guatemala, August 24, 2023. – Six countries in the men's and women's genders will seek to become the new champions of the 21st edition of the Central American Senior Beach Volleyball Championship 2023 organized by AFECAVOL, from August 25 to 27 in Guatemala.
Costa Rica, Nicaragua, Belize, El Salvador, Honduras, and Guatemala as the host country concluded their preliminary interview on Thursday, presenting all the necessary documents and uniforms that make them eligible to be part of the Seniro Central American Beach Volleyball event.
The tournament, to be held at the sports facilities of Campo Marte, will kick off on Friday, August 25, starting at 9 a.m., with the first qualification matches. On Saturday, August 26, the quarterfinals will take place, and the event will conclude on Sunday, August 27, with the medal matches.
AFECAVOL CENTROAMERICANO MAYOR DE PLAYA
In the men's field the 11 participating teams are divided into three groups: one group of three teams and two groups of four, as follows:
| | | |
| --- | --- | --- |
| GROUP A | GROUP B | GROUP C |
| NCA1 | GUA1 | ESA1 |
| BIZ | HON1 | CRC1 |
| GUA2 | CRC2 | NCA2 |
| | ESA2 | HON2 |
In the women's division 9 pairs are divided into two groups as follows:
| | |
| --- | --- |
| GROUP A | GROUP B |
| GUA1 | ESA1 |
| CRC1 | NCA1 |
| HON | GUA2 |
| ESA2 | CRC2 |
| NCA2 | |
In 2021, in El Salvador, the women's champions were Natalia Girón and Estefanie Bethancourt of Guatemala, while Nicaraguans Denis López and Jefferson Cascante took the title in men.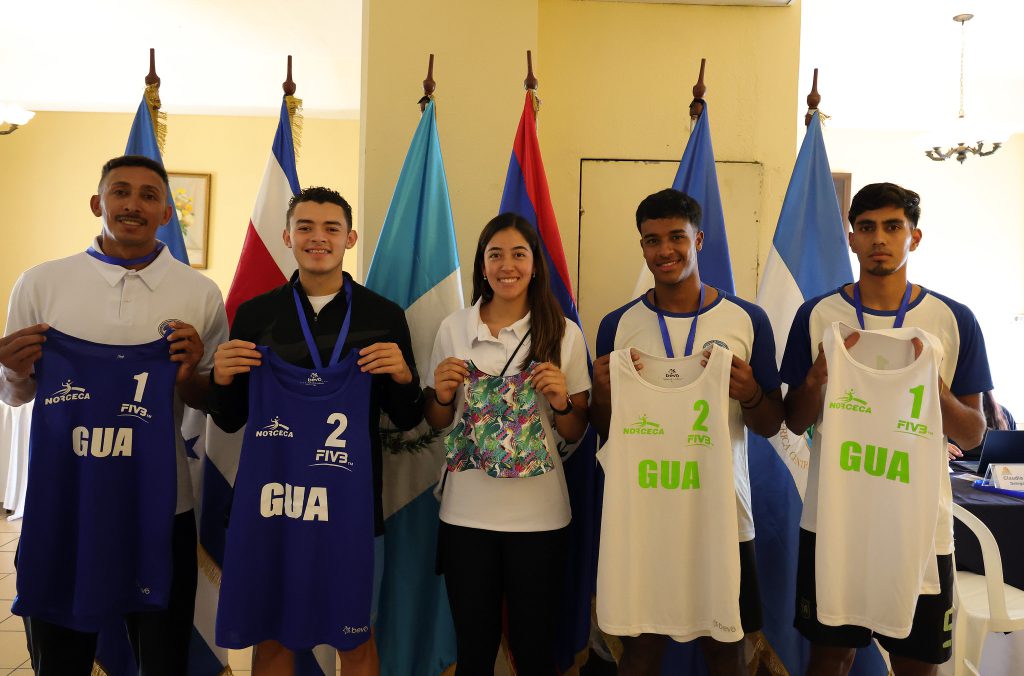 AFECAVOL Senior 2021 Winners
Women: 1. Natalia Girón/Estefanie Bethancourt (GUA1); Ivonne Soler/Sofía Velásquez (ESA1); Valeska Hernández/Socorro López (NCA1)
Men: 1. Denis López/Jefferson Cascante (NCA1); Rubén Mora/Dany López (NCA2); Andy Leonardo/Luis García (GUA1)
Participating Teams: 21st Central American Senior Beach Volleyball Championship 2023
Men: Edgar Martinez/Fabriel Nuñez (BIZ); Daniel Dyner/Clifforth Lobo (CRC1); Julián Araya/Yulius Brown (CRC2); Orlando Flores/Armando Guatemala (ESA1); Yoel Guardado/Christopher Guardado (ESA2); Andy Blanco/Edgar Maldonado (GUA1); J. Miguel Izaguirre/Mario Ventura (GUA2); Carlos Ramos/Irvin Reyes (HON1); Wilfredo Vega/Manuel Serrano (HON2); Rubén Mora/Danny López (NCA1); Jefferson Cascante/Denis López (NCA2).
Women: Ángel Williams/Kianny Araya (CRC1); Sofía Vega/Aliza Aguilar (CRC2); Kathya Vásquez/Sofia Velázquez (ESA1); Yvonne Soler/Laura Molina (ESA2); Natalia Girón/Paola Alvarado (GUA1); Maritza Zúñiga/Danna Aguilar (GUA2); Zoé Ebanks/Reizel Bruhier (HON); Nahima Silva/Lolette Rodríguez (NCA1); Alejandra Rosales/M. Fernanda Jarquín (NCA2).