ROTTERDAM, Netherlands, June 21, 2023.- The U.S. Men's National Team earned its second Volleyball Nations League (VNL) preliminary round win of week two on Wednesday with a 3-0 (28-26, 25-22, 25-18) blanking of China in Rotterdam, Netherlands.
The U.S. Men (5-1) have a day off before playing Iran (2-4) on June 23 at 7:30 a.m. PT.
Outside hitter Thomas Jaeschke led the U.S. with 15 points on 12 kills, two blocks, and one service ace. Once again, the U.S. men featured a balanced attack with outside hitter T.J. DeFalco (11), opposite Jake Hanes (10), and middle blocker Taylor Averill (nine) all adding high kill totals. Middle blocker Max Holt contributed five kills in six attacks as the U.S. finished with a 51-40 team advantage in kills.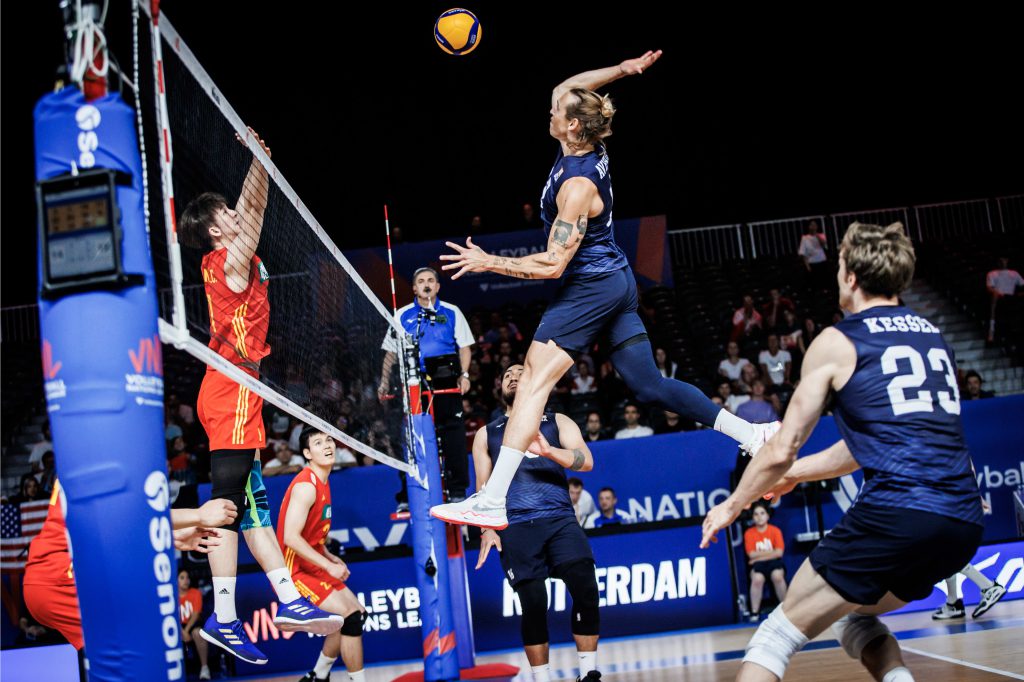 "It's very special being part of this team because we have so many options at any given time," DeFalco said. "I'm very fortunate to be part of a team that has those options we can roll out on any night."
The U.S. got off to a slow start and trailed 18-12 before rallying to tie the first set. China scored consecutive points for a 23-21 lead and eventually had two set points, but the U.S. kept fighting back and took the opener. The U.S. Men led most of the competitive second set though China tied it late. In each of the first two sets, Head Coach John Speraw substituted in setter Micah Christenson and opposite Matt Anderson late in the set and the U.S. finished strongly in each set.