COSTA DEL SOL, El Salvador, June 21, 2023.- The Women's Beach Volleyball tournament of the Central American and Caribbean Games San Salvador 2023 started with pool-play in all six pools, where teams showed their different abilities to try and reach the podium.
In Pool A, Kelly /Smith of Jamaica prevailed over D. Tulloch/C. Gaetos of Cayman Islands 2-0 (21-15, 21-10) and will play for first place Flores/Gutiérrez of Mexico, who earned a bye on Wednesday.
Beltran/Yanely of Colombia and Dominicans Payano/Almanzar will meet on Thursday at 9:00 am to decide the winner of Pool B after both won to their respective opponents; Beltran/Yanely defeated Suriname (no show) and Payano/Almanzar overpowered Leblanc/Calhoun of Bermudas (21-4, 21-4).
In Pool C, the Centro Caribe Sports team -CCS -(Girón/Bethancourt) came out on top Wilson/Cuero of Panama 2-0 (21-14, 21-11) and Almeida/Benneth of the U.S. Virgin Islands did the same against Antigua and Barbuda of Edwards/Lewis (21-09, 21-12). Centro Caribe Sports and the U.S. Virgin Islands will decide who advances as first in their pool.
Gabi/Juliennis of Venezuela and Silva/Lolette of Nicaragua were the winners in Pool D, facing Thornia/Stafford of Grenada (21-10, 21-10) and St. Kitts and Nevis of Allen/Lake (21-9, 21-12) respectively, and tomorrow they will decide who takes the lead.
Costa Rica's Williams/Quesada beat Joseph/Glasgow of Trinidad and Tobago (21-16, 21-13);  while Puerto Rico's Gonzalez/Navas did their thing over Murillo/Bruhier of Honduras 21-8, 21-6 and will face each other to lead Pool E.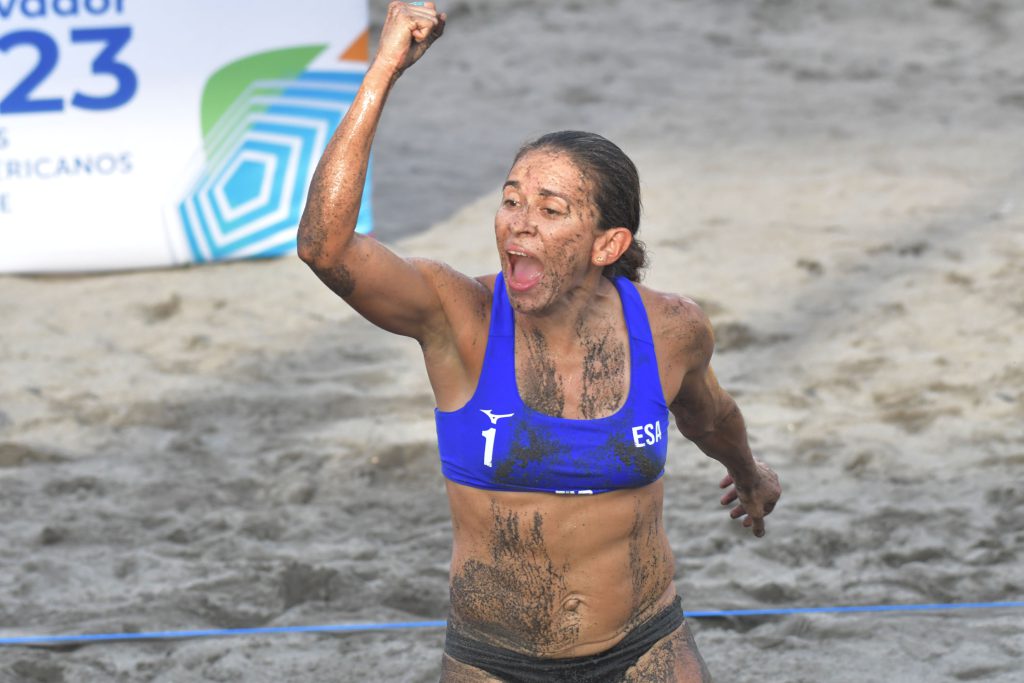 Results Wednesday
JAM def 2-0 CAY (21-15, 21-10) ; COL def 2-0 SUR (forfeit); DOM def 2-0 BER (21-4, 21-4); CCS def 2-0 PAN (21-14, 21-11); ISV def 2-0 ANT (21-09, 21-12); VEN def 2-0 GRN (21-10, 21-10); PUR def 2-0 HON (21-8, 21-6); CRC def 2-0 TTO (21-16, 21-13); NCA def 2-0 SKN (21-9, 21-12); ESA def 2-0 BIZ (21-17, 21-13); CUB def 2-0 LCA (21-9, 21-15)
Thursday schedule
MEX vs JAM 8:00 a.m.
COL vs DOM 9:00 a.m.
GUA vs ISV 12:00 MD
VEN vs NCA 1:00 p.m.
PUR vs CRC 4:00 p.m.
ESA vs CUB 5:00 p.m.
SUR vs BER 9:00 a.m.
PAN vs ANT 12:00 MD
GRA vs SKN 1:00 p.m.
HON vs TTO 4:00 p.m.
BIZ vs LCA 5:00 p.m.
Women's Teams
Zellene Edwards/Josanne Lewis, de ANT. Lisa Leblanc/Megan Calhoun de BER. Nelissa Ramirez/Shantell Arnold de BIZ. Deajra Tulloch/Chlouie Gaetos de CAY. Ana Maria Beltrand/Yaleny Moreno, de COL, Angel Williams/Kianny Araya, de CRC. Yenifer Rivera/Amanda Armenteros de CUB; Julibeth Payano/Bethania Almanzar, de DOM. Yvonne Soler/Laura Molina, de ESA; Thornia Mitchell/Renisha Stafford de Granada. Natalia Jirón/Estefanie Bethancourt de GUA; Xue Nicole Murillo/Reizel Bruhier, de HON; Cristina Almeida/Amber Benneth, de ISV; Chauna Kelly/Petal Smith, de JAM; Denila Prospere/Kerin Neptune, de LCA; Abril Flores/Atenas Gutierrez, de MEX; Nahima Silva/Lolette Rodriguez, de NCA; Ingrid Lezcano/Hashlyn Cuero de PAN; Maria Gonzalez/Allanis Navas, de PUR; Brenda Allen, Genelle Howell, de SKN; Chagnaz Frankel/Janneke Tammenga, de SUR; Teisha Joseph/Apphia Glasgow, de TTO; Gabriela Brito/Juliennis Regalado, de VEN.