September 21, 2023.- The United States took one more step toward Olympic qualification on Friday by beating Italy 3-1 (25-19, 23-25, 25-21, 25-18) at the FIVB Road to Paris Olympic Qualifier in Łódź, Poland and Canada defeated Ukraine 3-1 (25-22, 23-25, 25-12, 25-11) at in Ningbo, China.
Live Matches on VolleyballWorld.tv
United States (5-0), the defending Olympic champions, are now the only undefeated team in Pool C. On Saturday, USA will play Poland (4-1) while in Pool A, Canada (3-2) plays Mexico, who has yet to find a win.
The top two teams from each pool will qualify for the Paris 2024 Olympic Games.
USA led Italy in kills (63-58). The teams tied in blocks (9-9) and aces (2-2). The U.S. scored 24 points on Italy's errors and gave up 14.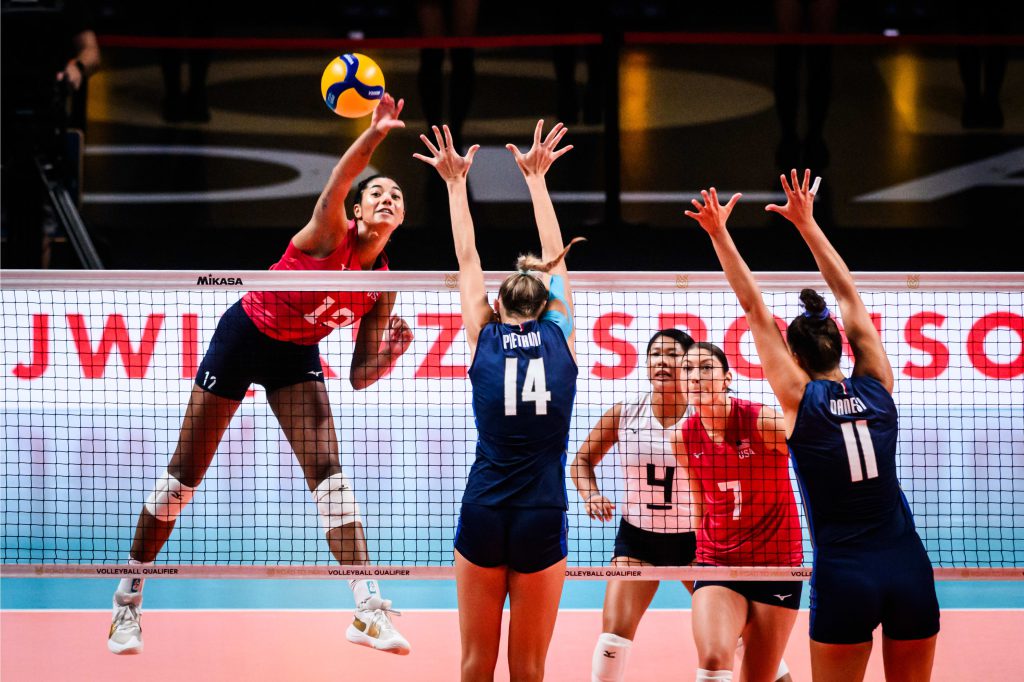 Opposite Jordan Thompson led all scorers with 24 points on a match-high 23 kills and one block.Outside hitter Kelsey Cook added 16 points on 12 kills, three blocks and one ace. Outside hitter Kathryn Plummer, who played as a substitute and started the fourth set, scored 11 points on 10 kills and one ace.
In Pool A, Canada had a tentative start, and Ukraine took advantage and control early on, however, Canada recovered to take the match in four sets.

Alexa Gray topped the scoring charts with 24 points for Canada. Middle blocker Emily Maglio was again effective with 13 points; including five block kills. Ukraine's opposite Anastasiia Kraiduba led her team with 16 attack points.
Mexico had a strong ending in their loss 1-3 (17-25, 19-25, 25-18, 27-29) to Czechia.
Here are the standings
https://en.volleyballworld.com/volleyball/competitions/volleyball-olympic-qualifying-tournament/standings/women/