SANTIAGO, Chile, August 31, 2023. – Argentina defeated Dominican Republic 3-1 (20-25, 30-28, 25-17, 25-20) to remain undefeated and advance into the next round in the Men's Volleyball tournament at the 19th Pan American Games Santiago 2023 taking place at the Parque O'Higgins Arena.
Defending champs Argentina, came back from losing the first set to maintain a 2-0 undefeated in Pool B. They will end pool-play on Wednesday against the host team Chile. Dominican Republic, with a 0-2 record, finishes with Puerto Rico.
Argentina held advantage in attacks (59-47) and blocks (7-3). Dominican Republic held advantage in service points (7-5). Argentina scored 29 points from Dominican errors but gave up 33.
Argentina's outside hitter Mauro Zelayeta led with 19 points, all on attacks. Team captain, Facundo Conte, contributed 17 points, including 11 attacks, 3 blocks, and 3 aces. Opposite hitter Bruno Lima added 12 points from attacks.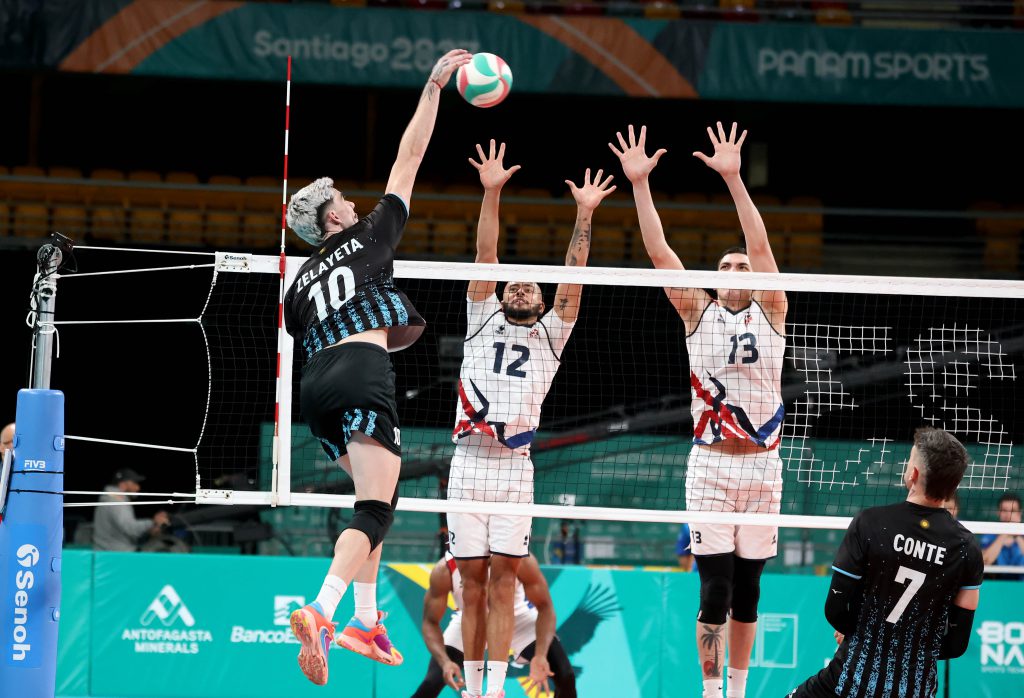 Dominican Héctor Cruz scored 17 points, on 16 kills and one ace. In his debut at Santiago 2023, team captain Henry Tapia contributed 16 points, including 15 kills and one ace. Outside hitter Wilfrido Hernández, also added 16 points, on 14 kills and 2 aces.
In the first set, Dominican Republic, led by Wilfrido Hernández and captain Henry Tapia, earned a significant seven-point lead (11-4) that Argentina's offense couldn't overcome.
Mauro Zelayeta was crucial in Argentina's comeback from a 4-point deficit (11-15) in a battling second set. Numerous failed serves on both sides extended the set, with Argentina eventually winning on a kill point from Facundo Conte for the 30-28 victory.
In the third set, Argentina quickly jumped to a seven-point lead (10-3), putting the Dominican Republic off balance to comfortably win and persevere in the fourth set.
Argentina's leading scorer Mauro Zelayeta said "We started the first set badly, under our game level, a bit unfocused in the beginning, but we adjusted the problem we had, fixed things. Then we learned how to move forward, win, and play fluidly".
Henry Tapia, Dominican captain added "I think the first and second sets were a good game, then we fainted in some skills, failed in receiving and attacks and weren't able to take the win".