AGUASCALIENTES, Mexico, April 22, 2023.- Mexican pairs of Atenas Gutierrez/Abril Flores and Esperanza Albarrán/Susana Torres and the U.S. duos of Katie Lindstrom/Teegan Van Gunst and of Geena Urango/Carly Skjodt advanced to semifinals of the first stage of the 2023 NORCECA Beach Volleyball Tour in Aguascalientes.
Sunday's semifinal between Gutierrez/Flores and Albarrán/Torres is scheduled for 8:40 am and Lindstrom/Van Gunst against Urango/Skjodt will meet at 9:20 am (local time).
In Saturday's quarterfinals Mexico's Atenas Gutiérrez and Abril Flores defeated Alison Mckay/Katherine Wuttunee of Canada in straight sets 21-13, 21-9; earlier Gutierrez and Flores won Pool A over Guatemala's Natalia Girón and Estefanie Bethancourth 21-14, 21-17.
Mexicans Esperanza Albarrán and Susana Torres won their semifinal spot over Natalia Giron and Estefanie Bethancourth Guerra 21-11, 21-11.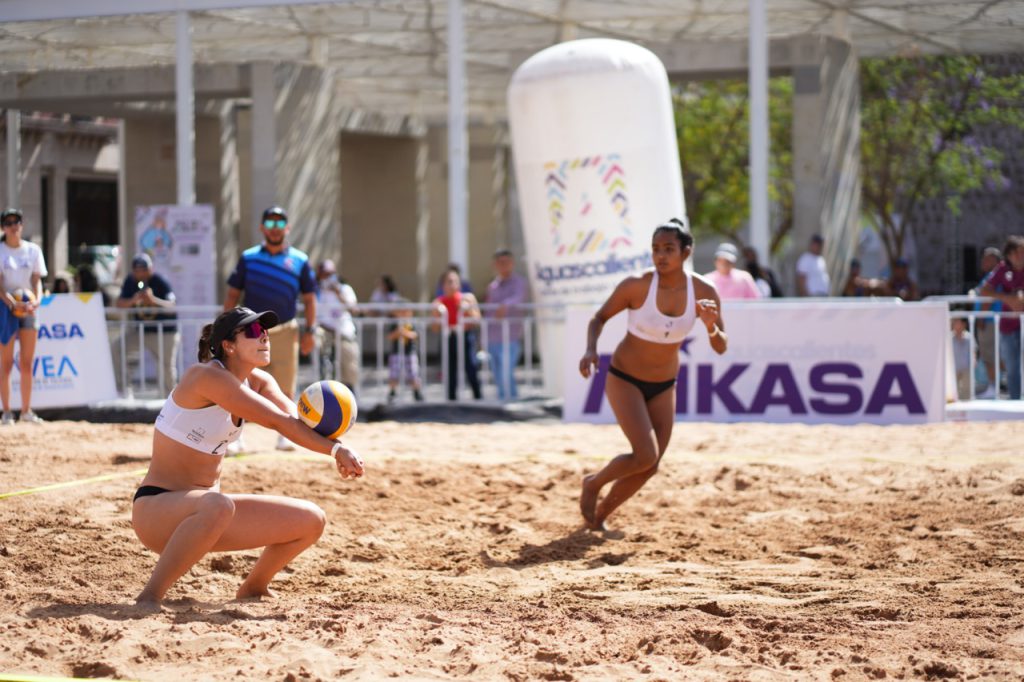 The two American pairs dominated their quarterfinal opponents without any difficulty. Katie Lindstrom and Teegan Van Gunst prevailed 21-12, 21-16 against Mexicans Itzel Vargas and Yeray Vidaurrazaga, while Geena Urango and Carly Skjodt held a comfortable advantage 21-13, 21-6 over Costa Rica's Ángel Williams and Ximena Núñez.
The competition is being streamed on Facebooklive Courtside
In the morning matches, Urango/Skjodt pocketed their third pool-play win beating Mexico's Julieta Muñoz/Ana Patricia Valle 2-0 (21-12, 21-11) to finish first in Pool D, and Lindstrom/Van Gunst finished second over Shanice Marcelle/Lea Monkhouse of Canada 21-14, 21-16.
Alison Mckay/Katherine Wuttunee of Canada took second place in Pool B after defeating Yvonne Soler/Laura Molina of El Salvador 2-0 (21-13, 21-17).
Ángel Williams and Ximena Núñez of Costa Rica won 21-11, 21-12 to Bennett/Almeida-Anz of the U.S. Virgin Islands to finish second place of Pool C. Yesterday, Vargas/Vidaurrazaga of Mexico secured first place of Pool C.
For the full schedule and results visit Aguascalientes 2023 NORCECA Beach Tour
Sunday's program also includes final positions 5/12 and the medal matches.