GUATEMALA CITY, Guatemala, March 17, 2023.- Nicaragua beat Suriname 3-2 (28-26, 20-25, 25-18, 19-25, 15-7) to play for fifth place at the NORCECA U19 Boys Pan American Cup in Guatemala City.
Nicaragua will play for fifth place against the winner between Guatemala and Belize; Suriname for seventh place.
It was a party of points in the first set, won by Nicaragua where Suriname lost three set points (24-22), which set the rhythm for the continuing sets. Suriname held a huge advantage in the fourth set only to fall in the tie-break.
The Central Americans held advantages in attacks (58-53) and aces (3-2), Suriname was better in blocking 10-8. In errors, Nicaragua finished with 36 and Suriname with 38.
Opposite hitter Victor Bermudez led Nicaragua's scorers with 20 points on 18 kills and two aces, accompanied by middle blocker Angelo Guadamez and outside hitter Evans Solis with 15 points apiece.
Suriname´s top scorer was outside hitter Anfernee Lee with 20 points on 16 kills and four points from aces, followed by outside hitter Gianni Ritfeld with 19 points on 17 kills and two blocks, while opposite hitter Meson Anakaba chipped in with 13 points on 10 kills, two blocks and one ace.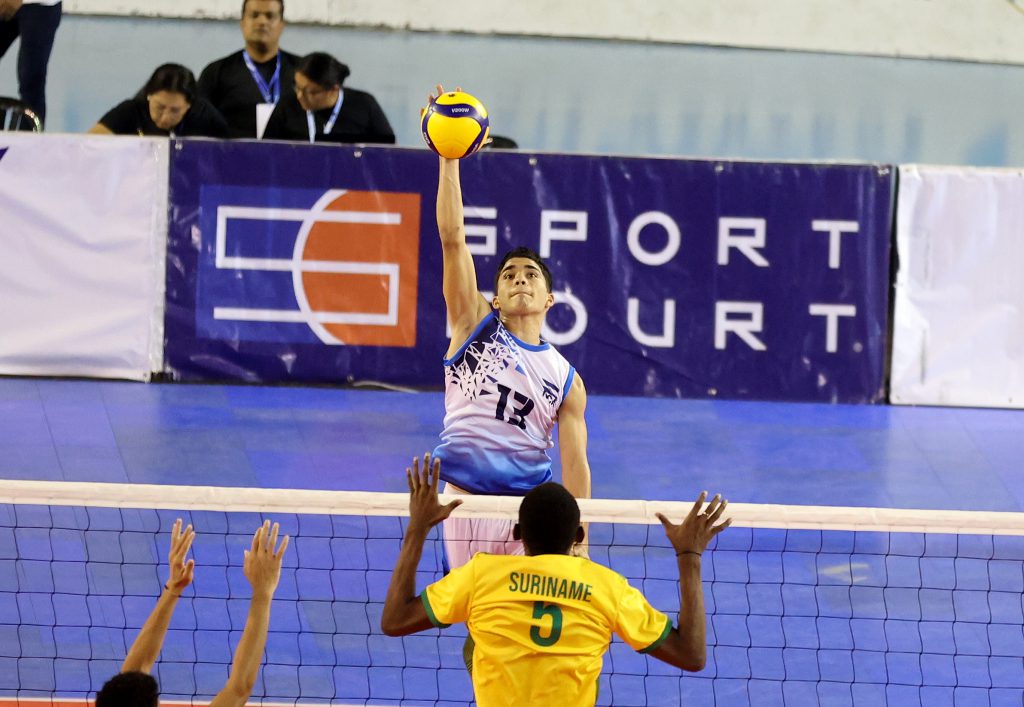 Víctor Bermudez, top scorer of Nicaragua: "We had complications in receiving, lack of concentration and we were overconfident committing basic errors. We were able to win thanks to our coaches' instructions, how to position and our energy improved".
Jorge Mena, head coach of Nicaragua: "This tournament took us by surprise, the boys are doing a great effort, they don't give up and we reached the goal, we won't finish last. Some players, like number 3 (Bermudez) today was on fire, he motivated the team and I made some adjustments in the fifth for the win".